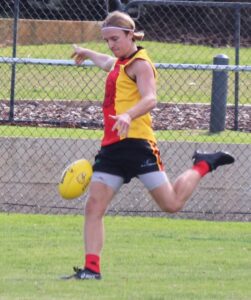 This compacted season was always going to be to place a higher premium on each game. The wins would be substantial, the losses tougher to endure.
Evidence to support that theory was provided at Gil Fraser Oval last Saturday when the O'Rourke Realty North Beach A-Grade side beat North Fremantle in a thriller.
The Beach traveled to the home of the Magpies sitting on top of the ladder, but finished the day in second spot, despite winning.
It ensures the climax to the 2020 Perth Football League A-Grade qualifying season is intriguing.
And the game pivotal to the finals structure will be at Charles Riley Reserve when the resilient North Beach outfit takes on Kingsway – a club needing to win to ensure they remain in the top four.
Under this vastly different season, the competition reverts to a top four because there are just nine qualifying games. After eight matches, the Beach has lost just once but still, remarkably, sits in second spot with this game to come.
While the Beach has just one blemish on the season, so, too has top side Curtin University-Wesley and third placed Fremantle CBC, who play each other at South Oval. With the top three all on equal points, the only way North Beach can guarantee a double chance is to beat Kingsway.
And Kingsway have plenty of incentive themselves.
By beating Scarborough last week, they jumped into the top four for the first time this season and now their destiny is in their own hands. If they can topple the Beach they're in – as simple as that.
Scarborough plays Trinity Aquinas at Millington Reserve and should carry too much fire power for the Boomers. They are a game in arrears of Kingsway, but have a massive 38 percent advantage over Kingsway.
So now get to a situation in the last round where three teams are guaranteed of playing in the finals series starting next week, with two teams competing for the last spot and three competing for a double chance. It is a great finish to what has been an absorbing truncated 2020 campaign.
The Lifenet A-Reserves have locked away top spot with unbeaten season as they chase their fourth consecutive premiership under Scott Holbrook.
The will be looking to fine-tune their game plan as they prepare for next week's second semi-final against Curtin University-Wesley. They have clearly been the two best team in the competition, Wesley's only loss coming against the Beach a few weeks ago.
The Plasterwise Phil Scott Colts will need to conquer fifth-placed Kingsway to play finals as they aim to defend the premiership they won 12 months ago.
Kingsway are locked on equal points with the Beach so this game is a virtual elimination final.
While of that plays out, the lower grade finals also kick into gear with the Hybrid Linings C5-Grade and the Coast to Coast Imports C5-Reserves playing Fremantle CBC and Trinity Aquinas, respectively in first semi-finals.
The Indian Ocean Hotel Brett Jones Colts have had a cracking season and will play the only team to whom they lowered their colours, Curtin University-Wesley, in a second semi-final at McGillivray Oval.
It looms as smorgasbord of action-packed footy. Enjoy the day and……Go Beach!
Fixtures, September 5
O'Rourke Realty A-Grade
North Beach v Collegians, Charles Riley Reserve, 2.45pm
Lifenet A-Reserves
North Beach v Collegians, Charles Riley Reserve, 1.05pm
Plasterwise Phil Scott Colts
North Beach v Collegians, Charles Riley Reserve, 11.25pm
Hybrid Linings C5-Grade
North Beach v Fremantle CBC, Charles Riley Reserve (2) 2.30pm
Coast to Coast Imports C5-Reserves
North Beach v Trinity Aquinas, Charles Riley Reserve (2) 12.50pm
Indian Ocean Hotel Brett Jones Colts
Curtin University-Wesley v North Beach, McGillivray Oval, 11.10am