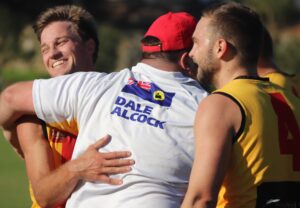 It feels so surreal.
Back in January pre-season kicked off. And now, six months on, we're ready to play. It has been an eternity.
The North Beach season will burst to life with seven of the club's teams engaged in battle for the first time in 2020 at various locations around the city.
The O'Rourke Realty A-Grade, Lifenet A-Reserves, Plasterwise Phil Scott Colts and the Peak Body C3 women will all wait another week to get underway.
Charles Riley Reserve will make a somewhat subdued re-start with just one match scheduled for home base, with the Project Ceilings A-Grade women kicking off their campaign against Nollamara.
Under a re-structured season, the lower grade men's teams find themselves in different competitions to the norm, but we have needed to be pliable with the Perth Football League in what has been the archetypal logistical nightmare of getting this massive competition together in such as short amount of time.
So our third and fourth grade teams, the Hybrid Linings C4 Grade and Coast to Coast Imports C4-Reserves will be playing some unfamiliar teams, starting with Noranda at Lightning Park tomorrow.
Our fifth and sixth grade sides, the Beyond Tools C5-Grade and the GJ Osplumb C5-Reserves will play Mt Lawley at Hamer Park.
The Indian Ocean Hotel Brett Jones Colts will head to Swan Athletic while, as evidence of the club traversing the metropolitan area, the Grange Residential I-Grade start with a road trip to Warnbro.
It's not ideal to have our teams spread so far away from North Beach, but it has been far from an ideal season. And there will be days when we have the vast majority of our teams assembled at Charles Riley Reserve on the same day.
To all who play, best wishes, enjoy the experience. This has been a long time coming and there were months where we didn't think we'd even get an abridged season off the grund.
Go Beach!!
Fixtures, Round 1
Project Ceilings A-Grade Women
North Beach v Nollamara, Charles Riley Reserve, 11.30am
Hybrid Linings C4-Grade
Noranda v North Beach, Lightning Park, 2.45pm
Coast to Coast Imports C4-Reserves
Noranda v North Beach, Lightning Park,  1.05pm
Beyond Tools C5-Grade
Mt Lawley v North Beach, Hamer Park, 2.45pm
GJ Osplumb C5-Reserves
Mt Lawley v North Beach, Hamer Park, 12.30pm
Indian Ocean Hotel Brett Jones Colts
Swan Athletic v North Beach, Swan Athletic Reserve, 11.25am
Grange Residential I-Grade
Warnbro v North Beach, Warnbro Sporting Complex, 2.30pm