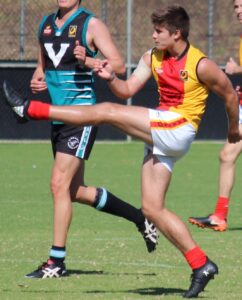 It has been a long time coming. A long, long time coming, but for the North Beach faithful it will be worth it as the past comes together with the present when the O'Rourke Realty A-Grade team tackles the promoted Collegians at one of the great venues of community football in WA.
For the first time the senior teams play at Charles Riley Reserve and senior coach Shane Paap and his team will be hoping the environment is intimidating for last year's B-Grade grand finalists.
The Beach started the season with a flourish, overwhelming Trinity Aquinas with a blistering seven-goal last quarter to open the truncated campaign with a 44-point victory.
Today, as premiership players from 1980 (F-Grade), 1990 (A-Grade) and 2010 (A-Grade and A-Reserves) assemble to reminisce, the current squad will be looking to leave an impression.
Last week's triumph was built around the class of ruckman Kyle Cranley, while Blake Piggott was outstanding both off half-back and through the midfield, Mitch Holbrook, who could be in the social hall celebrating with his successful 2010 teammates, and former West Coast utility player Simon Tunbridge kicked three goals.
James Garcia (two goals) was lively up forward, while Craig Hoskins did some good through the middle and Dan Leishman provided string run out of defence.
The Lifenet A-Reserves, searching for four successive premierships under Scott Holbrook, were also irresistible against TA, while the Plasterwise Phil Scott Colts started their title defence in emphatic fashion.
There will be five games at the Beach tomorrow, with the two women's teams playing on Charles Riley Reserve, starting at 9.30am.
The third and fourth grade teams will travel to Armadale while the fifths and sixths will play at Manning.
Fixtures, July 18
O'Rourke Realty A-Grade
North Beach v Collegians, Charles Riley Reserve, 2.45pm
Lifenet A-Reserves
North Beach v Collegians, Charles Riley Reserve, 1.05pm
Plasterwise Phil Scott Colts
North Beach v Collegians, Charles Riley Reserve, 11.25pm
Hybrid Linings C5-Grade
Armadale v North Beach, Gwynne Park, 2.30pm
Coast to Coast Imports C5-Reserves
Armadale v North Beach, Gwynne Park, 12.50pm
Indian Ocean Hotel Brett Jones Colts
Collegians v North Beach, Dalkeith Oval, 12.50pm
Beyond Tools C4-Grade
Manning v North Beach, James Miller Oval, 2.45pm
GJ Osplumb C4-Reserves
Manning v North Beach, James Miller Oval, 1.05pm
Project Ceilings A-Grade Women
North Beach v University, Charles Riley Reserve (2), 11am
Peak Body C-3 Women
North Beach v University, Charles Riley Reserve (2), 9.30am
Grange Residential I-Grade
Fremantle CBC v North Beach, Morris Buzzacott Reserve, 2.30pm