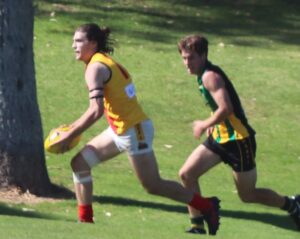 The danger of casting beyond this week and projecting forward is that the immediate task does not receive due focus.
For the O'Rourke Realty A-Grade team the temptation to look to the horizon is removed to some extent because the immediate challenge against Fremantle CBC is the most important of the closing three rounds of the qualifying season. Until next week.
Culturally, that's the way it is in Australian football. When looking any deeper into the future than the upcoming match, there's a nagging voice in the back of your head screaming 'don't get ahead of yourself.'
The Beach is guaranteed of playing finals, with its position within that finals structure to be determined over the closing three rounds.
The A-Grade contest tomorrow sees North Beach (fourth) challenge CBC (third) in a game that could go a long way towards deciding  the standings within the top five. Currently, Scarborough is a lock in top position, but North Beach, University and CBC are all on equal points with three games remaining.
Both University and CBC play Scarborough in the next fortnight, which makes for an exciting climax to qualifying season.
Clearly this game will influence how the season comes together.
On a day when the club will again showcase its broad depth many of the most significant off-field contributors will be on hand for the club's last home game of the season. A marquee sponsors day will be held, ensuring a great atmosphere.
While the A-Grade match promises to provide a magnificent showcase for amateur football, the Lifenet A-Reserves also face an interesting contest.
The Beach is undefeated at this level, but face one of their strongest challengers, CBC sitting in second position. Scott Holbrook has guided the club to successive Reserves premierships and he would be keen to maintain momentum in the run to the finals.
The day starts with the Plasterwise Phil Scott Colts (third) playing second-placed CBC.
This should begin a marquee day in the appropriate fashion with three absorbing contests looming on the main oval at Charles Riley Reserve.
The Hybrid Linings D1-Grade and the Coast to Coast Imports D1-Reserves play Mt Lawley at Hamer Park  and will be keen to lock away victories as they build towards finals.
The Beyond Tools E1-Grade is out of contention, but will be looking to finish brightly over the next fortnight, starting with their clash against Bullcreek Leeming at Beasley Park.
The GJ Osplumb E3-Grade will look to get the job done against Osborne Park and coach Will Hooper will urge a ruthless assault, with percentage likely to play a part in finishing positions within the top five.
The Indi Bar Brett Jones Colts will travel to Gil Fraser to tackle North Fremantle in the hope of banking the points and cementing third spot.
August 10
O'Rourke Realty A-Grade
North Beach v Fremantle CBC, Charles Riley Reserve, 2.30pm
Lifenet A-Reserves
North Beach v Fremantle CBC, Charles Riley Reserve, 12.35pm
Plasterwise Phil Scott Colts
North Beach v Fremantle CBC, Charles Riley Reserve, 10.40am
Hybrid Linings D1-Grade
Mt Lawley v North Beach, Hamer Park, 2pm
Coast to Coast Imports D1-Reserves
Mt Lawley v North Beach, Hamer Park, 12pm
Indi Bar Brett Jones Colts
North Fremantle v North Beach, Gil Fraser Reserve, 10.40am
Beyond Tools E1-Grade
Bullcreek Leeming v North Beach, Beasley Park, 3.25pm
GJ Osplumb E3-Grade
Osborne Park v North Beach, Robinson Reserve, 2.30pm
Galleria Toyota A-Grade Women
North Beach v Kingsley, Charles Riley Reserve (2), 11am
Grange Residential I-Grade
Willetton, v North Beach,  Burrendah Reserve, 2pm