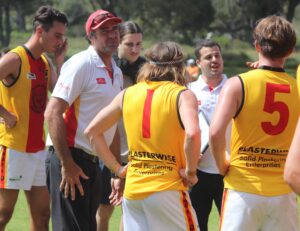 When the Perth Football League prepares to host its A-Grade competition grand finals, it probably factors in a North Beach presence.
Certainly, in recent history, the club has been strongly represented with at least one North Beach team featuring regularly on the competition's day of days.
While the flagship O'Rourke Realty A-Grade team has not won a premiership since 2010, it did reach the grand final in 2017, only to be denied on a day when the breaks did not go their way. The seniors are building and moving towards another era of success.
That much is evident from the performances of the Lifenet A-Reserves and the Plastwerwise Phil Scott Colts, who will each play their fourth grand final in five years at Steel Blue Oval tomorrow.
The A-Reserves have been the benchmark of the competition in the last four years and are shooting for their successive premiership under Scott Holbrook. This season they lost just one qualifying game and have again demonstrated the great depth on offer at the club.
Once again there is a neat blend of youth and experience, with the likes of Ben Sweeny, Mitch Cameron, Tom DeCourtenay and Josh Stott there is some seniority in the team and around them are exciting youngsters like Matt Murray, Nic Baroni, Nathan Torre and Oskar Tothill.
With competition best and fairest Nick Bowe leading the way through the middle, in conjunction with Adam Swain, Dan Ryan and Nick Wells, the Beach will be hoping to present the requisite scoring opportunities to apply important score board pressure.
Down back the likes of Jarrod Chapman, Sweeny, Brennen Irvine and Matt Holden will have key roles to play.
The Phil Scott Colts will be looking to replicate a recent trend with either North Beach or University winning the premiership in the last four years. The Beach won the flag in 2016 and have been runners-up in 2015 and 2018 and will be hoping to reverse a qualifying final loss to Fremantle CBC.
They boast an even spread of talent, which was the key to their preliminary final triumph over the Scholars last week.
With Conor Boylan and Conor Brown excelling in the midfield, Jack McIntosh and Madoc Plane showing some class with their ball skills, the Beach was irrepressible at times last week.
Forwards Caiden Eaton, Ben Wasley and Jack Davidson presented strongly while the defensive efforts of Travis Burton ensured the ball was locked inside his team's defensive half.
There is a sense of maturity in the back half through Luke Hopkins, Judd Clinch and Jack Merson while Jamie Bennett, Blake Sawyer AND Jack Stevens are also important players.
Fixtures
Lifenet A-Reserves
Grand Final
North Beach v University, Steel Blue Oval, 12.10pm
Plasterwise Phil Scott Colts
Grand Final
North Beach v Fremantle CBC, Steel Blue Oval, 10am