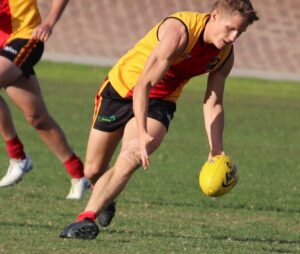 The O'Rourke Realty A-Grade advanced to their second grand final in four years with a gripping one-point victory over Curtin University Wesley at South Oval last Saturday.
After skipping away to a 28-point advantage in the middle of the last quarter, there were heart palpitations for the North Beach faithful as Curtin rattled on four quick goals in the dying minutes, before the Beach held on to win 9.12 (66) to 10.5 (65).
It would have been a travesty for the Beach to have lost a game they controlled for most of the day and doubtless coach Shane Paap and his players will focus on the brand of footy that saw them kick away to be in a commanding position.
That was based around effort, pressure and intensity, forcing the opposition into error with their committed approach to both the ball and their opponents.
The triumph was built around the work of ruckman Kyle Cranley, who was outstanding and demonstrated why he is regarded as the best big man in the competition. Runner-up in the CJ Jamieson Medal to teammate Joey Deegan on Wednesday night, Cranley was effective at stoppages, but also worked hard around the ground.
Defenders Liam Catalfamo and Dan Leishman provided strong rebound out of the back half, while Ned Halley continued his ultra-consistent season, and Adam Cockie was a bull around stoppages.
Veterans Mitch Dwyer and Beau Witheridge were energised and James Garcia was lively in the forward half.
Wesley will now play Scarborough in the preliminary final, with the winner earning the right to play North Beach for the premiership at Steel Blue Oval next Saturday.
Unfortunately for the Lifenet A-Reserves, they had a bad day against a talent-laden opposition, with Wesley Curtin dominating the second semi-final to win by 56 points.
North Beach finished the qualifying season undefeated and earned the double chance. They used their life line and remain in the hunt for a fourth successive flag under Scott Holbrook.
Little went right from the outset and will now play University to earn another crack at Wesley.
Experienced leaders Nic Bowe and Ben Sweeny were resilient while Conor Boylan and Oskar Tothill also stood out.
The Plasterwise Phil Scott Colts started well in their first semi-final against Trinity Aquinas, failed to get maximum return on the scoreboard and then faded to an eight-point loss.
While a disappointing defeat, the Beach had the majority of its team playing their first season of colts which augurs well for the future.
Ruckman Craig Bothe, midfielder Alex Thompson, Lachlan Scurria and Jarrod Thompson all made strong contributions, but they could not match the energy and drive of their opposition.
Details
O'Rourke Realty A-Grade
Second semi-final
North Beach       3.2          6.5          7.10        9.12        66
Curtin-Wesley   2.0          4.0          6.2          10.5        65
Goals – North Beach: Leishman, Lamont 2; Gill, Mansfield, McGuinness, Dwyer, Garcia.
Best – North Beach: Cranley, Catalfamo, Leishman, Halley, Cockie, Dwyer, Witheridge, Garcia.
Lifenet A-Reserves
Second semi-final
Curtin-Wesley   2.1          4.2          5.4          8.9          57
North Beach       0.0          0.1          0.1          0.1            1
Best – North Beach: Bowe, Sweeny, Boylan, Tothill.
Plasterwise Phil Scott Colts
First semi-final
Trinity Aquinas  1.1          3.2          4.6          7.9          51
North Beach       2.4          3.5          5.5          6.7          43
Goals – North Beach: Brooks 2; Kirkpatrick, J Thompson, Tunnis, Eaton.
Best – North Beach: Bothe, A Thompson, Scurria, J Thompson, Brown, Bellouard.