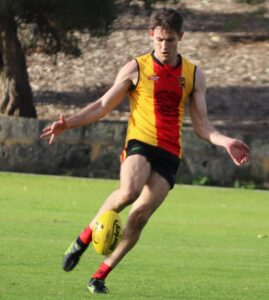 Disappointing losses happen in sport. It's a rarity for a campaign to coast along without a glitch or two.
The important thing in that scenario is the response and the O'Rourke Realty A-Grade made an emphatic statement in the first quarter against Trinity Aquinas on Saturday.
Having stumbled against Kingsway seven days earlier, the Beach needed to bounce back hard against the Boomers, who had to win to keep alive their finals aspirations. In a game transferred from TA's traditional home at Bill Grayden Reserve because of boggy ground conditions, the Beach was hot early at Ernest Johnson Reserve.
A six-goal opening term, set up by the ruck pairing of Tom Hooper and Oskar Tothill, who ensured the Beach midfield had first use of the ball, was the catalyst for a 34-point victory with the Tigers holding the ascendancy throughout.
With Mitch Gill, Sam Lamont, Craig Hoskins and Jack McIntosh getting their hands on the footy there was a steady stream of opportunities and James Garcia and Andrew McGuinness were a constant threat up forward.
Trinity Aquinas kicked back hard in the second term, but the Beach responded again in the third quarter with a dominant burst ensuring they marched away with a 14.3 (87) to 7.11 (53) victory.
The run and ball use of Dan Leishman was again a telling factor while Shannon Lucassen made a strong return to the senior team and Hamish Coulton was solid deep in defence.
The Lifenet A-Reserves continued their unbeaten run, but not without a challenge from the Boomers, eventually winning 5.11 (41) to 3.5 (23).
Clearly the goal-front inaccuracy made this a little tighter on the scoreboard than it was in possession and territory, but the Beach enjoyed the challenge.
Nathan Adler continued his outstanding season kicking three of his team's five goals, while Jordan Webster is building on a strong form line, and experienced midfielders Beau Witheridge, Nic Bowe and Tim Edwards were once again important.
Ruckman Josh Chapman was influential and Alex Thompson continues to grow within the senior squad.
The Plasterwise Phil Scott Colts were also impressive, without getting the result, in what looms as a finals prelude.
This match had all the intensity of a finals battle with the quality produced by two teams locked on equal points at the top of the table providing an entertaining contest. The Beach was in the game until the middle of the last quarter when the young Boomers put the result beyond doubt, going on to win 11.11 (77) to 8.2 (50).
Kobi Martin and Riley Sparks produced eye-catching performances while Justin Prior and Matt Coleman excelled through the midfield and Chris Papadopoulos and Sam Cooper did all within their power to get the Beach across the line.
Details
O'Rourke Realty A-Grade
North Beach       6.0          7.0          13.2        14.3        87
Trinity Aquinas  1.3          4.6            5.8        7.11        53
Goals – North Beach: Tothill, Garcia 3; McGuinness 2; Scurria, Mackenzie, Leishman, Brockbernd, Gill, Bottechia.
Best – North Beach:
Lifenet A-Reserves
North Beach       3.5          4.5          5.9          5.11        41
Trinity Aquinas  0.1          1.3          2.4          3.5          23
Goals – North Beach: Adler 3; Ekert, Webster.
Best – North Beach: Thomspon, Webster, Josh Chapman, Witheridge, Bowe, Edwards.
Plasterwise Phil Scott Colts
Trinity Aquinas  5.1          7.2          8.7          11.11     77
North Beach       2.2          5.2          5.2            8.2        50
Goals – North Beach: Rose, Cooper 2; Bothe, Sparks, Martin, O'Shea.
Best – North Beach: Martin, Sparks, Prior, Coleman, Papadopoulos, Cooper.