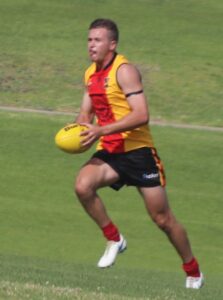 The danger when playing a 'dead rubber' in the final game of the qualifying season is that a team can adopt an everyman from himself attitude.
When the opposition has little incentive as well, the opportunity for that attitude to permeate through the team because even more likely.
Fortunately, for the O'Rourke Realty A-Grade team last Saturday, that mindset was averted against bottom-placed Wanneroo with the Beach cruising to a 20-goal win – 23.12 (150) to 4.4 (28).
There were some signs of players kick-chasing early in the game, but they reverted to the standard practice after a reminder from coach Shane Paap and played with admirable cohesion and structure thereafter.
With Chris Bottechia relishing some freedom up forward and some clean ball movement ahead of him, he capitalised on opportunities and kicked six goals while cohort Jordan Webster was also lively, bagging five goals.
In addition, Mitch Gill, Josh Stott and Sam Lamont were responsible, to a large extent, for that steady stream of supply, with Travis Gray resolute in defence and Mitch Dwyer providing his trade-mark energy.
The Lifenet A-Reserves were even more comprehensive in victory, completing a 154-point rout that completed their season at the top of the table, winning 25.11 (161) to 1.1 (7).
Nathan Adler was again the focal point up forward with seven goals, while Mitch Cameron chimed in with four of his own.
Nick Bowe completed a remarkably consistent season with a commanding display through the midfield, ably assisted by the likes of Dion Cownie, Joe Deegan and Adam Swain, who put the cherry on the top of his performance with three goals.
Matt Holden provided his usual grunt around the contests.
The biggest challenge for the club at the Wanneroo Showgrounds was always going to come for the Plasterwise Phil Scott Colts and that proved to be the case against a Roos outfit with plenty of incentive to win.
While North Beach had second position locked away and no chance of improving, Wanneroo needed to win to vault into the finals and with three points separating the teams at the last change, the high stakes proved a strong motivator for the home team.
Wanneroo powered home, kicking four goals to none, to win by 20 points – 9.10 (64) to 6.8 (44).
Ben Wasley was strong up forward, Jack Stevens, Callum Corbett and Lachie Thomas were all solid from start to finish.
Results, August 24
O'Rourke Realty A-Grade
North Beach       4.4          11.8        15.11     23.12     150
Wanneroo          2.1          2.1            3.4          4.4          28
Goals – North Beach: Bottechia 6; Webster 5; Gill 3; M Dwyer, Leishman 2; Edwards, Lamont, Gray, Tothill, Campbell.
Best – North Beach: Bottechia, Gill, Stott, Lamont, Webster, Gray, M Dwyer.
Lifenet A-Reserves
North Beach       7.3          14.4        17.8        25.11     161
Wanneroo          0.0            1.0        1.0           1.1             7
Goals – North Beach: Adler 7; Cameron 4; Swain 3; Torre, Cownie, Schofield, Deegan 2; Brookes, Wells, Bowe.
Best – North Beach: Bowe, Cownie Deegan, Adler, Holden, Swain.
Plasterwise Phil Scott Colts
Wanneroo          2.1          4.5          5.9          9.10        64
North Beach       0,3          3.5          6.6          6.8          44
Goals – North Beach: Eaton 2; Seidner, Sawyer, Wasley, Thomas.
Best – North Beach: Wasley, Stevens, Corbett, Thomas.