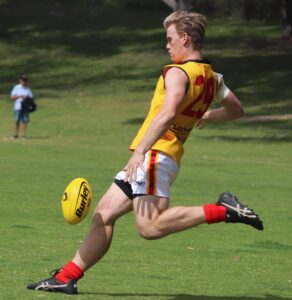 A 10-minute burst of brilliance by the Plasterwise Phil Scott Colts propelled to them to another A-Colts grand final after a thrilling win against University last Saturday.
At the same venue – Millington Reserve – where the Beach upset University in last year's second semi-final, they again endured against the premiership favourites with an 8.4 (52) to 7.6 (48) victory.
After a captivating opening term, the Beach put the foot down in a sublime second quarter, with Caiden Eaton unstoppable up forward as the Beach streamed through the midfield and delivered the ball with precision to scoring range.
Eaton was unerring in front of goals, kicking four goals during that game-breaking period, as he capitalised on the silver service delivered by players like Jack McIntosh, Conor Boylan, Dave Purser and Madoc Plane.
In that pivotal second quarter onslaught, the Beach rattled on four goals to one and opened up a three-goal advantage.
Coach John Burton and his team expected University to respond – and they did – but the Beach had the where-with-all to hold them off, lock down in the dying minutes and advance to another grand final.
At times, as is so often the case with the impetuosity of youth, the Beach colts looked to move the ball dangerously when playing a more considered, slower tempo might have been a better option, but they certainly deserved their success.
Zac Salleo and Kurt Hamilton got things moving out of the middle, Travis Burton played with his trademark grit while Jamie Bennett, Luke Hopkins and Judd Clinch made smart decisions at important moments.
Plasterwise Phil Scott Colts
Preliminary Final
North Beach       2.0          6.1          7.1          8.4          54
University           2.1          3.2          5.5          7.6          48
Goals – North Beach: Eaton 6; Wasley, McIntosh.
Best – North Beach: Eaton, McIntosh, Purser, Merson, Bennett, Plane.