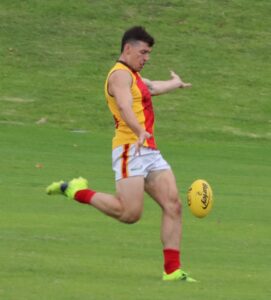 It was half time at McGillivray Oval and University had edged their collective nose in front of the O'Rourke Realty North Beach A-Grade team.
The Scholars had been cleaner with their ball use, capitalised on a number of North Beach turn-overs that had been the catalyst for their slender four-point advantage at the main break.
The Beach was far from out of the contest but they needed to address a few issues, eradicate some sloppy errors and improve efficiency if they were to maintain their unbeaten record. They responded brilliantly.
With experienced midfielders Mitch Gill, Sam Lamont, Steve Mansfield and Craig Hoskins leading the way – with ruckman Kyle Cranley who took on the highly talented ruck duo of Nathan Blakely and Hamish Murray – they gradually worked their way on top.
With young swingman Oskar Tothill offering a target up forward, finishing the game with four goals, and defensive stars Luke Symonds, Matt Murray and Liam Catalfamo doing their thing down back, the Beach eventually emerged 21-point victors – 11.9 (75) to 8.6 (54).
Other key figures in the victory included Daniel Leishman and Joey Deegan, whose run, dash and commitment to the contest were important.
Earlier, the Lifenet A-Reserves faced a similar situation against University.
Seriously challenged in the first half they, too, had the answers and were too slick, kicking 10 goals to one after the long interval, to win by 65 points – 15.4 (94) to 4.5 (29).
The Scholars were highly competitive to the break, trailing by just 10 points, but they could not sustain the effort as the Beach found another gear.
James Canty and Nic Bowe were exceptional through the middle while Jordan Webster and Caolan O'Connell provided terrific offensive pressure, while Jarrod Chapman maintained his outstanding form in defence, with Matt Raynor.
Just as importantly Mitch Mackenzie, in his first game for the club after breaking his wrist in pre-season, emerged unscathed and kicked three goals as he impacted more the deeper the game travelled.
And Kade McKenzie was also lively in the midfield after working his way into the A-Reserves line-up.
The Plasterwise Phil Scott Colts, who did so much to set up victory over University, but saw it slip through their grasp in the last 10 minutes.
Leading by five goals early in the last quarter after playing a sustained and impressive brand of football, they fell away as momentum swung University's way and eventually endured a heart-breaking two-point defeat.
The 10.6 (66) to 10.8 (68) loss came despite the efforts of Joshua Moses and Matt Coleman, who were combative in the midfield, Petr Coles who was dangerous up forward, and the classy Corey Belouard.
Other good contributors included Flynn Rose and Tai Kirkpatrick, but the loss was a tough lesson in closing out a match having done so much good work against the top team in the competition.
Results, Round 8
O'Rourke Realty A-Grade
North Beach       3.3          5.3          8.5          11.9        75
University           2.0          6.1          7.4          8.6          54
Goals – North Beach: Tothill 4; Garcia, McGuinness, Gill 2; Leishman.
Best – North Beach: Gill, Lamont, Mansfield, Tothill, Hoskins, Cranley, Murray, Symonds.
Lifenet A-Reserves
North Beach       3.0          5.1          10.2        15.4        94
University           1.2          3.3          4.3           4.5        29
Goals – North Beach:  C O'Connell, M Mackenzie 3; Adler, Edwards 2; K McKenzie, Hall, McColgan, Canty, N Wells.
Best – North Beach: Webster, C O'Connell, Jarrod Chapman, Canty, Raynor, Bowe, Edwards.
Plasterwise Phil Scott Colts
University           1.3          2.6          4.8          10.8        68
North Beach       4.0          6.0          9.3          10.6        66
Goals – North Beach: Coles 3; Rose 2; Kirkpatrick, Moses, Bothe, Martin, O'Shea.
Best – North Beach: Moses, Coles, Belouard, Kirkpatrick, Coleman, Rose.