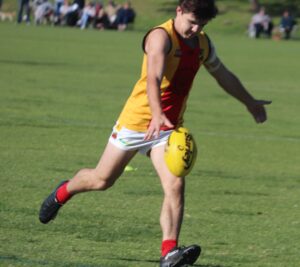 For three quarters North Beach had done the work to put themselves in a position to win this preliminary final against Fremantle CBC.
The Hybrid Linings D1-Grade had competed strongly throughout and aside from a period in the second term they were the better team. Now it was about closing it out.
That most difficult thing to do in sport is that final phase; like a tennis player serving for the match, a golfer putting for the title. Finishing the task is the toughest element.
Coach Glen Hinkley implored his players in his three-quarter time address to focus on the one percenters. That in tight finals doing the little things well could be the difference.
And so it was. A smother here, a spoil there, a ferocious tackle, a courageous mark. In the last 20 minutes of this game, the Beach did it all, converting a three-point advantage at the last change into a 10-point win and a place in this week's grand final.
If there was one man who personified the gospel according to Glen, it was diminutive Irishman Caolan O'Connell. He's always punched about his weight, a combative individual who thrives on the contest.
And he relished a game with the stakes raised. He had already been a solid contributor, but turbo-charged his output in the final term, inspiring his teammates to follow in a wonderful victory against the minor premier.
The Beach started strongly, virtually squaring the first quarter after kicking against the breeze, undid some of that work with a poor second term with the advantage of the wind, but then set the game up with a brilliant third term.
Aside from the pugnacious O'Connell, George McColgan provided a strong target up forward and kicked four goals, captain Craig Hall, who was early this week recognised as the best player in the competition, Nick Marsh and Andy Langsford were highly influential.
Down back, Shane Duckworth provided strength and stability, Michael Collins rebounded strongly and others like Jacob Desmond and Luke Pardini were resilient in a pulsating victory.
Earlier, the Coast to Coast Imports D1-Reserves gave a brave but ultimately forlorn showing against the highly-regarded University.
They, too, were in the frame for a winning performance, with scores tied up at the last change.
Unfortunately, the Scholars had the use of the breeze in the final quarter and finished too powerfully, despite the bold efforts of players like Rob McComiskie, Brendan Collins, Tully Wickstein and Brendan Viney.
The charge of the GJ Osplumb E3-Grade that has captivated the club in the second half of the season, came to a shattering end at the hands of Melvlle – going down by just two points.
Again they were brave, fighting to the end when 14 points down with minutes to play before rallying and providing some hope of a miraculous accent to the grand final.
Alas time proved to be an enemy and despite the valiant efforts of players like Michael Humphry, Joel Gray, Cam Howie and veteran Peter Panagopoulos, they were denied.
Hybrid Linings D1-Grade
Preliminary Final
North Beach       2.0          4.1          7.6          8.9          57
Fremantle CBC  2.1          6.5          7.3          7.5          47
Goals – North Beach: McColgan 4, C O'Connell 2, Langsford, Marsh.
Best – C O'Connell, McColgan, Marsh, A Langsford, Pardini, Desmond.
Coast to Coast Imports D1-Reserves
Preliminary Final
University           2.1          4.3          6.3          9.5          59
North Beach       2.2          3.2          6.3          6.4          40
Goals – North Beach: Wickstein 2; Mesiti, Bryce, Bowden, Hughes.
Best – North Beach: B Collins, McComiskie, Viney, Bryce.
GJ Osplumb E3-Grade
Preliminary Final
Melville                2.2          5.3          6.4          8.6          54
North Beach       3.1          3.3          5.3          8.4          52
Goals – North Beach: Winterton, Howie 2; M Clarke, Bruse, Cuzens, S Clark.
Best – North Beach: Humphry, Gray, Howie, Procak, Panagopoulos, Marchin-Vincent.