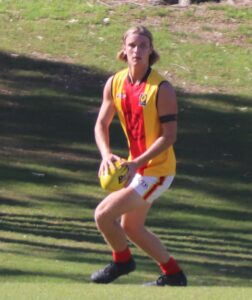 A new-look O'Rourke Realty A-Grade team kicked off the Perth Football League season in style last Saturday.
While the distinctive red and yellow jumper was the same as that worn in last year's grand final, the personnel wearing them, was vastly different.
There were some regulars of seasons past back in guernseys they have made their own, but there were 10 new faces in the line-up – a mix of young players who have worked their way up the ranks at Charles Riley and others who have found their way to the Beach since the completion of the 2020 campaign.
With such a high turnover of players it was logical to expect they would require some time to gel. They did. About an hour.
And then they turned it on, kicking 11 of their 13 goals in the second half as they marched to an emphatic 43-point victory – 13.12 (90) to 7.5 (47).
After a first half punctuated by clangers and missed opportunities, the Beach produced a second half blitz on the back of experienced stars like Sam Lamont, James Garcia, Ryan Ekert and Luke Symonds while newcomers James Canty, Hamish Coulton, Dylan Brockbernd and Shannon Lucassen were also important.
Oskar Tothill, Caolan O'Connell, Jack McIntosh and Matt Murray were among the young group who have progressed through the club from colts and all contributed to the victory.
It was a similar story with the Lifenet A-Reserves, this team vastly different to the one that won its fourth successive premiership in 2020, and it carved out a methodical 82-point victory – 14.8 (92) to 2.1 (13).
The Beach was never in trouble in this one and again it was the stalwarts like Ben Sweeny, Nic Bowe, Jarrad Chapman and Michael Schofield who imposed themselves on the game when it was broken open.
But it was exciting to see brothers Nick and Chris Wells, Jack Merson, George McColgan, Travis Burton, Lachlan Scurria and Jackson Martino slot into the level and impact so positively on the result.
Like the A-Grade, the Plasterwise Phil Scott Colts took a while to kick off the rust, but once they found their rhythm they were most impressive in winning 7.9 (51) to 3.6 (24).
Key defenders Blair Wilson (full back) and Marshall Stephen (centre half-back) were dominant in conjunction with Ben Tindall while ruckman Craig Bothe gave the Beach first use of the ball and players like Justin Prior and Matthew Coleman enjoyed the service.
Up forward Egan Brooks was a constant threat with four goals while Tai Kirkpatrick again showed his knack for kicking a goal, adding two for the Beach.
Results
Round 1, Saturday April 10
O'Rourke Realty A-Grade
North Beach       0.2          2.6          7.8          13.12     90
North Frem         2.1          3.2          5.4            7.5        47
Goals – North Beach: Ekert 4; Garcia 3; Lucassen 2; M Dwyer, Lamont, Coulton, O'Connell.
Best – North Beach: Lamont, Canty, Tothill, Coulton, Garcia, Ekert, Symonds.
Lifenet A-Reserves
North Beach       3.3          4.6          14.7        14.8        92
North Frem         0.0          0.1            2.1        2.1         13
Goals – North Beach: Schofield, Della-Vedova 3; McColgan, Adler, Burton 2; C Wells, N Wells.
Best – North Beach: Sweeny, Bowe, Jarrad Chapman, Schofield, Josh Chapman, Martino.
Plasterwise Phil Scott Colts
North Beach       1.2          1.5          5.6          7.9          51
North Frem         1.1          1.2          3.4          3.6          24
Goals – North Beach: Brooks 4; Kirkpatrick 2; McAdam.
Best – North Beach: Wilson, Bothe, Stephen, Prior, Coleman, Tindall.