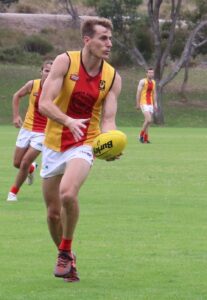 Nerves were jangling at Charles Riley Reserve last Saturday.
O'Rourke Realty A-Grade coach Shane Paap had them; wingman Josh Stott could feel butterflies in the pit of his stomach and Nathan Dwyer was on edge.
While ladder positions suggested North Beach had the tools required to dismantle any Wembley challenge, the job still had to be done. And the Tigers should have had the Magpies measure early in the season, only to come away disappointed.
Paap was feeling a little anxious because a position in the top five is far from guaranteed and then spots within that structure can also fluctuate wildly, depending on the weekly results. So, there is plenty at stake in a tight competition every week.
For Stott, playing his first A-Grade match in six years, and Dwyer, his first game of the season, anticipation of the battle meant they were pumped for the contest.
By afternoon's end, all could sit back in the changerooms content with their work.
The Beach stayed in touch with the top two with a methodical 45-point victory over Wembley, and both Stott and Dwyer played their part in the triumph.
The Beach held sway for much of the day, but the door was still ajar for the Magpies at three-quarter time when they trailed by just under four goals. The Tigers, however, finished strongly on the back of some class work from Liam Catalfamo, Blake Piggott and Dan Leishman to lock away an important four points – 13.18 (96) to 7.9 (51).
Captain Mitch Dwyer, young defender Matt Murray and the reliable Tim Edwards were also key contributors.
The Lifenet A-Reserves continued their unblemished season with a convincing 95-point win – 18.8 (116) to 3.3 (21).
Jordan Brooks made a spectacular return after a mid-season hiatus, kicking seven goals, while Max Hurley continued to build confidence and touch with three goals and Adam Swain's form projected on a positive trend, finishing off his work with three goals.
The Beach put the game away early, leading 10 goals to one at half-time, with Matt Holden, Dylan Campbell and Peter Hiotis leading the charge.
Additionally, Ben Sweeny was impeccable down back, Oscar Tothill and Tom DeCourtenay offered a strong presence around the ground.
The value of two quality key targets up forward was emphasised when the Plasterwise Phil Scott Colts held off a spirited challenge from Wembley.
Caiden Eaton and Ben Wasley kicked 10 of their team's 12 goals to stamp their authority on the match while ruckman Jack Hamilton was influential, Conor Boylan imposed himself through the midfield and Madoc Plane was again outstanding in defence.
In conjunction with Jack Merson and Judd Clinch, they kept the pressure on Wembley throughout and held things together when the heat was on.
The Indi Bar Brett Jones Colts travelled to McGillivray to face a University outfit in a battle for second spot. North Beach had the majority of the play in the opening quarter but couldn't make the most of their forward 50 entries and went into the first break two points down.
The Scholars started to hurt the Beach with their outside run in the second but a couple of crucial goals from Mason Rollo and a brilliant individual effort from Christian Sisarich made sure there was nothing in it at half time.
Without their recognised ruckmen, Chris Gamble and Sean Roberts stepped up and performed admirably while Benjamin Hodge was also tireless in the heat at half forward.
University broke away in the third but again the Beach showed resilience to claw things back and Mitch Hunt converted with a clutch set shot from 45m on the three quarter time siren.
North Beach hit the front late in the fourth and fought desperately to hold on but it wasn't to be as University hit the scoreboard and scraped through in a two-point thriller.
The Beyond Tools E1-Grade, stayed within reach of a finals berth with a solid victory against East Fremantle at East Fremantle.
Lachlan Green was outstanding with six goals, while Khalil Campbell provided plenty of run through the midfield, stalwart Brett Anthony was at his best and Xavier Williamson exerted a strong influence.
The GJ Osplumb E3-Grade, overcame a sluggish start against fellow finals contender Warnbro Swans, at Warnbro, before taking another important step forward.
Damian Gardiner presented well in his return match and kicked a couple of important goals, while Mitch Clarke, Steven Clark and Jake Hutchison were also important factors in a solid 23-point victory achieved after trailing by 11 points at the main break.
Unfortunately, the Galleria Toyota A-Grade women ran into a red-hot Curtin Wesley and found them insurmountable, losing 7.6 (48) to 0.2 (2).
Emily Sainty was outstanding down back and had it not been for her performance the margin would have been greater while captain Ellen Duncan was also rock solid.
Georgian Diaz and Tessa Anderson did all they could, but last year's inaugural premiers had all of the answers.
The Hybrid Linings D1-Grade, the Coast to Coast Imports D1-Reserves and the Grange Residential I-Grade all had byes.
Results
O'Rourke Realty A-Grade
North Beach      4.3         9.7         10.11    13.18    96
Wembley           1.1         5.3         7.6          7.9       51
Goals – North Beach: N Dwyer 3; Ryan, Webster 2; Schofield, Piggott, M Dwyer, Catalfamo, Stott, Josh Chapman, M Irvine.
Best – North Beach: Catalfamo, Piggott, M Dwyer, N Dwyer, Murray, Edwards, Leishman.

Lifenet A-Reserves
North Beach      4.2         10.3       12.5       18.8       116
Wembley           0.1           1.2         1.3         3.3         21
Goals – North Beach: Brooks 7; Hurley, Adler 3; Swain, M Cameron 2; Bowe, Baroni
Best – North Beach: Holden, Campbell, Sweeny, Tothill, DeCourtenay, Hiotis.

Plasterwise Phil Scott Colts
North Beach      3.2         7.4         7.10       12.10    82
Wembley           1.0         2.1         3.3           5.4       34
Goals – North Beach: Eaton 6; Wasley 4; Sawyer, Seidner.
Best – North Beach: Plane, Eaton, Merson, Wasley, Hamilton, Boylan, Clinch.

Indi Bar Brett Jones Colts
University           1.1         4.4         7.8         8.10       58
North Beach      1.3         4.3         7.4         8.8         56
Goals – North Beach: Lewis, M Rollo 2; Craig, Irvine, Hunt, Tobin.
Best – North Beach: Hodge, Quinn, Gamble, Pollard, Thompson.

Beyond Tools E1-Grade
North Beach 13.13 (91) def East Fremantle 4.4 (28)
Goals – North Beach: Green 6; Bowden 2; Campbell, Cosgrove, Jacobs, Lazenby, Tait.
Best – North Beach: Green, Campbell, Anthony, Williamson, Evans, Tait.

GJ Osplumb E3-Grade
North Beach      1.1         4.3         10.4       11.6       72
Warnbro             3.1         6.2         6.4          7.7       49
Goals – North Beach: Gardiner, Clark, J Cuzens, Hutchison 2; Hardeman, Winterton, Fryer.
Best – North Beach: Clarke, Clark, Hutchison, Gardiner, Howie, Gurney, Marchin-Vincent.

Galleria Toyota A-Grade Women
Curtin Wesley    2.3         3.5         4.5         7.6         48
North Beach      0.0         0.0         0.1         0.2           2
Best – North Beach: Sainty, Duncan, Diaz, Anderson, Uglow, Pianto.

Byes – Hybrid Linings D1-Grade, Coast to Coast Imports D1-Reserves, Grange Residential I-Grade.