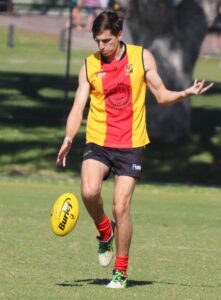 The human mind is complex and unique, no two brains are wired exactly the same. That's why an identical piece of data can be processed so differently by two individuals and why getting a team of people aligned is an art form.
Coaches around the world have been working ways to bring the collective together, to get them synchronised to achieve a common goal.
On Saturday at Charles Riley Reserve, Glenn Hinkley managed to bring the Hybrid Linings D1-Grade together to produce another stunning victory – this time against Mt Lawley.
It would have been easy for the Beach to fall into the trap of assuming the Hawks, traditionally a team that struggles with its depth at this level, would again be fodder.
But the Tigers went in with a mindset expecting the Hawks to present a challenge and that is how it unfolded, initially at least.
Mt Lawley were a vastly improved outfit to what they have been in the past three seasons. In a physical game, there was only two goals in it at half time as both teams struggled to convert their chances in attack.
After the main break, the committed North Beach was more united, used instructional voice to communicate effectively and saw off the pressure – both real and perceived. It made a marked improvement and saw the Beach pull away with an eight goals to one second half.
Captain Craig Hall was simply outstanding on his wing as he racked up best on ground honours for the third time in five games. His selfless courage, backing in to packs with the flight of the ball, saw him crunched on several occasions.
He bounced to his feet, continued to work hard and helped his defenders before popping up in the forward 50 with three goals. Vice-captain Jacob Desmond had his best game of the season through the middle and across half forward, also finishing with three goals while George McColgan continued his stellar season with two goals.
Adam Miotti was clean and efficient on his wing in his best display for the season and Tully Wickstein (two goals) and Matt Seaton (one) finished off terrific midfield games by hitting the scoreboard.
Perhaps the events that unfolded at the start of the earlier game, involving the Coast to Coast Imports D1-Reserves, played a part in the mindset.
Mt Lawley started enthusiastically against the unbeaten Beach, kicking the first two goals, before the hosts clicked into gear and responded. The Hawks kicked just one more goal for the day as North Beach powered their way to an 80-point romp – 14.15 (99) to 3.1 (19).
With Liam Hunter and Riordan Hughes leading the charge, the Beach wrestled control and then put the exclamation mark on the victory with a nine-goal second half.
Brendan Collins was exceptional in the ruck, Jack Flynn kicked four goals in the final term and capitalised on the midfield domination.
The Indi Bar Brett Jones Colts faced a tough test against second-placed University, and with perhaps the strongest team fielded all season, they responded magnificently.
The Beach were lively from the get-go and capitalised on Zach Salleo's ruck dominance to get the early jump on the opposition. Two of the best goals you will ever see kicked at Charles Riley from Alex Thompson and Flynn Rose were highlights of the first half as North Beach continued to provide manic pressure around the ball and offer University no room to work.
It was all to play for in the third, but a commanding quarter from North Beach, led by a rock solid performance from Cam Emery off half back, and the blistering pace of first-gamer Matthew Lewis on the wing saw the Beach turn at the final change with a five-goal advantage.
Mason Rollo capped off another brilliant day at the office with a bag of five to make it four straight wins for North Beach with none sweeter than this one.
The Beyond Tools E1-Grade won a hotly-contested game against East Fremantle, seeing off a feisty start by the visitors before carving out an impressive 89-point win.
The Beach adjusted to having a make-shift ruckman, controlled play after things settled down and won comfortably.
Brayden Bowden continued his good form, Michael Bramley imposed himself up forward with seven goals, while Luke Spies, Jamie Tonus and Riley Duncan were also exceptional.
The GJ Osplumb E3-Grade made it a wonderful day for the lower grades with a hard-fought 17-0point win over Osborne Park – 9.10 (64) to 7.5 (47).
Mitch Clarke was lively and kicked three goals while James Winterton continued his excellent start to the season.
Details
Hybrid Linings D1-Grade
North Beach      1.2         4.3         8.8         12.11    83
Mt Lawley          0.1         2.2         2.2           3.3       21
Goals – North Beach: Hall, Desmond 3; McColgan, Wickstein 2; Miotti, Seaton.
Best – North Beach: Hall, Desmond, Miotti, McColgan, Wickstein, Power.
Coast to Coast Imports D1-Reserves
North Beach      1.4         5.8         9.12       14.15    99
Mt Lawley          2.0         3.0         3.1          3.1       19
Goals – North Beach: Flynn 5; Christie, Lloyd 3; Bryce, Hughes, B Hinkley.
Best – North Beach: Hunter, Hughes, B Collins, Flynn.
Indi Bar Brett Jones Colts
North Beach      2.4         5.6         8.9         11.9       75
University           0.0         3.1         4.2           6.3       39
Goals – North Beach: Rollo 5; Rose 2; Thompson, Roberts, Lewis, Sisarich.
Best – North Beach: Rose, Rollo, Emery, Thompson, Pollard, Salleo.
Beyond Tools E1-Grade
North Beach      4.5         7.9         14.13    19.15    129
East Fremantle  1.0         3.1           5.2         6.4         40
Goals – North Beach: Bramley 7; Green 3; Tonus, Quinlan, Duncan 2; McGuire, Cosgrove, Orr-Young.
Best – North Beach: Bowden, Bramley, Duncan, Spies, Tonus.
GJ Osplum E3-Grade
North Beach      1.2         4.5         5.9         9.10       64
Osborne Park    2.2         4.3         5.3         7.5         47
Goals – North Beach: M Clarke 3; Winterton 2; Howie, S Clarke, Manea , Harewood.
Best – North Beach: