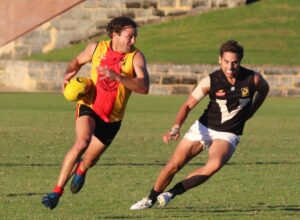 A love of the game, an affinity for the club, the rush of the contest. Winning. Whatever it is that inspires individuals to the North Beach Football Club, there's a passion and a drive to be there.
But sometimes an event transcends the game itself.
And every year when the O'Rourke Realty A-Grade team plays its ANZAC match, the ceremony pre-game is every bit – if not more important – than the contest itself.
The significance in the last two years has evolved to even higher importance through the association of No.1 ticketholder Graham Edwards, a Vietnam veteran of great renown and presence. He has, in the last two years, had a medal created for the best North Beach player in the game.
On Saturday that was a difficult decision as North Beach dominated Wanneroo on the way to winning 19.16 (130) to 3.4 (22).
The Roos kicked the first goal of the game, but North Beach dominated thereafter.
The Beach had winners in virtually every position, with classy wingman/forward Dylan Campbell setting the standard with an exemplary display, putting himself in line for a second consecutive Graham Edwards Medal.
That distinction, awarded to a player who best exemplifies the ANZAC spirit, was, however, deservedly presented to experienced defender Michael Taylor.
He was part of a defensive effort that did all that it needed to do when Wanneroo pushed into attack and then repelled with purpose. Chris Bottechia was also a key aspect of the defensive unit.
Through the midfield Joe Deegan and Dan Leishman ensured constant flow of supply, upon which Ryan Ekert and Mitch Cameron feasted, along with Campbell, who kicked four goals.
Debutant Oskar Tothill won acclaim as the players' player with an outstanding first-up contribution.
The despair at Wanneroo had earlier been illustrated when the Lifenet A-Reserves won by 173 points – holding the Roos scoreless in a flawless 80-minue exhibition.
The Beach dominated in every facet of the game, with the midfield, led by Nick Bowe, Dan Ryan and Nick Baroni linking the game between defence and attack and ensuring a flood of opportunities.
When the ball was pushed inside the attacking 50 metre arc, Nathan Adler and Shaun Foley did not let them down, while Austin Sheard, Ben Johnson, Tim Edwards and Cam Raynor also excelled. It was difficult to find a player who did not control their position as they continued an unblemished start to the season.
The Plasterwise Phil Scott Colts made a flying start to the day, kicking three goals in the opening five minutes, before Wanneroo knuckled down and fought their way back into the contest.
The Roos proved resilient and determined, so much so that at three-quarter time, they held a slender advantage, before the Beach again responded and chalked up an important win.
Wanneroo provided staunch resistance and physicality before the Beach sealed the game with a solid last quarter.
Jack Davidson was influential at half back and then through the middle in last quarter, while  undersized ruckman Dane Webster, who always competes, Lachie Gardiner on the wing, Jamie Bennett and Jack Merson down back and Travis Burton up forward were influential.
Results
Round 3
O'Rourke Realty A-Grade
North Beach      2.6         8.9         13.15    19.16    130
Wanneroo         1.1         1.1           1.2         3.4         22
Goals – North Beach: Ekert 5; Campbell 4; M Cameron 3; Reid 2; Webster, Bottechia, Taylor, McGuinness, Cranley.
Best – North Beach: Campbell, Deegan, Leishman, Ekert, Taylor, Tothill.
Lifenet A-Reserves
North Beach      6.3         12.9       19.12    26.17    173
Wanneroo         0.0         0.0         0.0           0.0           0
Goals – North Beach: Adler, Foley 5; Edwards 4; Johnson 3;Torre, Brooks, Ryan, Hoskins, Chapman, Goddard-Nash, Schofield, Swain, DeCourtenay.
Best – North Beach: Bowe, Ryan, Murray, Johnson, Foley, Sheard, Edwards, Raynor, Baroni.
Plasterwise Phil Scott Colts
North Beach      3.0         6.2         7.3         10.7       67
Wanneroo         1.2         3.4         7.4           7.4       46
Goals – North Beach: Sawyer 3; Wasley, Wells 2; Davidson, Spencer, Mortimer.
Best – North Beach: Davidson, Merson, Gardiner, Thomas, Bennett.