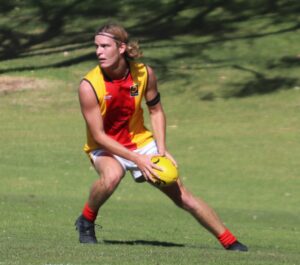 Another chapter in the enduring rivalry with close neighbours Scarborough will be penned tomorrow when the O'Rourke Realty A-Grade team locks horns with the Sea Eagles at Charles Riley Reserve.
It looms as an intriguing challenge against the reigning premiers, who remain the benchmark of the competition in 2019.
The Beach will be hoping for a rejuvenated effort after the bye week when the WA amateur team played the VAFA at Fremantle Oval last Saturday. Two North Beach players, ruckman Kyle Cranley and midfielder Sam Lamont, played in that game and will be hoping to resume at club level in their best form.
Senior coach Shane Paap is aware that Scarborough currently represents the toughest challenge in the amateur game and will call for something special on what is a big occasion for the club.
With eight of the club's 10 teams in action at Tiger headquarters – and the traditional Ladies Day function being held in the club facility – it will be a hive of activity around Charles Riley Reserve.
The day will start with the presentation of guernseys to the Integrated Rules State team, with Chris Willers the first player at this level from North Beach to be afforded the honour.
The Beach will welcome back a handful of senior players, including defender Christian Bottechia, midfielder Tim Edwards and swingman Sean Foley for this assignment.
The depth of the club has been tested in recent weeks, but it has also created opportunities for the likes of Austin Sheard and Liam Catalfamo.
The elevation of those players has also created opportunities for players in the Lifenet A-Reserves who have so far avoided the upwards pressure created by those promotions to remain undefeated.
They will be looking to maintain that record against Scarborough today.
There will be plenty of action through the day, which will kick off on the main oval when the Galleria Toyota A-Grade women tackle Cottesloe at 9.30am, followed by the Plasterwise Phil Scott Colts (10.55am), the Lifenet A-Reserves ( 12.50pm), the O'Rourke Realty A-Grade and the GJ Osplumb E3-Grade (5pm).
There is plenty at stake in all games, so the North Beach faithful might just make the difference.
Meanwhile on the northern oval, the Coast to Coast Imports D1-Reserves will start the day at 11.15am, followed by the Hybrid Linings D1-Grade and then the Grange Residential I-Grade at 3.15pm.
The Indi Bar Brett Jones Colts (Bill Grayden Reserve) and the Beyond Tools E1-Grade (Millington Reserve) will both play away from home.
FIXTURES
July 13, 2019
O'Rourke Realty A-Grade
North Beach v Scarborough, Charles Riley Reserve, 2.45pm
Lifenet A-Reserves
North Beach v Scarborough, Charles Riley Reserve, 12.50pm
Plasterwise Phil Scott Colts
North Beach v Scarborough, Charles Riley Reserve, 10.55am
Hybrid Linings D1-Grade
North Beach v Trinity Aquinas, Charles Riley Reserve (2), 1.15pm
Coast to Coast Imports D1-Reserves
North Beach v Trinity Aquinas, Charles Riley Reserve (2), 11.15am
Indi Bar Brett Jones Colts
Trinity Aquinas v North Beach, Bill Grayden Reserve, 9.15am
Beyond Tools E1-Grade
Scarborough v North Beach, Millington Reserve, 2.30pm
GJ Osplumb E3-Grade
North Beach v SNESA, Charles Riley Reserve, 5pm
Galleria Toyota A-Grade Women
North Beach v Cottesloe, Charles Riley Reserve, 9.30am
Grange Residential I-Grade
North Beach, v Mandurah Mustangs, Charles Riley Reserve (2),  3.15pm