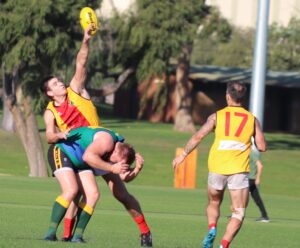 There was a distinctive North Beach flavour to the Perth Football League annual presentation night at Crown Ballroom last night.
Not only did the club have three individual winners in their respective fairest and best counts, but club legend Chris Perkin was inducted into the Hall of Champions.
Josh Chapman (A-Reserves), Joel Brown (C5-Reserves) and Fletcher Cooke (E2-Grade) each walked away with fairest and best medallions, franking outstanding seasons for the teams they represented with distinction through the year.
And then Perkin – aka The King – was inducted into the Hall of Champions, recognising a remarkable 288-game career at North Beach that saw him play in 10 A-Grade premierships. He joins other North Beach stars recognised in the past, including Brian Kiely, Bill Duckworth and David Perry.
Other individuals to poll strongly included Nic Bowe, who was runner-up in the A-Reserves behind Chapman, while Jordan Brooks was runner-up in the C5-Grade.