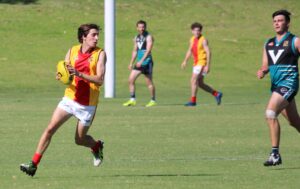 A perfect autumn day. Just a zephyr of a breeze, Wanneroo Showgrounds baking in the warming sun.
As the two teams drifted into position, almost in every one-on-one match up, the Hybrid Linings North Beach D1-Grade players looked out-sized against Wanneroo. On appearances, it looked like the Beach would have an edge in speed, the Roos would control the air.
After 10 minutes of sparring, assessing each other, North Beach had absorbed the best the opposition had and then asserted their dominance and never looked like being headed.
This was a ruthless four-quarter performance against a side that was never really in the contest. In one-sided games it can be easy to relax and switch off but, the Beach stayed focused and kicked goals consistently through the game.
A five-goal opening term was a good start, with the Beach dominating in all positions across the ground, on the way to a 111-point rollick – 22.10 (142) to 5.1 (31).
It started in the midfield where Alex Coleman and Adam Miotti, in his 100th game, had complete control in the ruck and those at their feet were feasting on that advantage. Vice-captain Caolan O'Connell continued his fantastic start to the season and was winning possessions inside and outside while Jayden Black and Callan Dunjey won contested ball at will.
Matt Seaton and Jacob Desmond played more of a shut-down role on the best Wanneroo mid and basically took away any advantage Wanneroo may have had at the stoppages.
The backline was generally against bigger opponents, but quickly determined that bringing the ball to ground and then swarming in numbers simply did not allow the Wanneroo forwards into the contest. Aran O'Connell, Liam Pardini, Andy Langsford, Michael Collins, Shane Duckworth and Mark Henderson were fantastic in repelling almost everything thrown at them.
The forwards were constantly looking for the best team option and it resulted in goals predominantly being kicked from the corridor rather than snaps from the pocket. Josh Cameron was a constant source of danger and finished with seven, while George McColgan continued to show his potential with six goals from strong leads and sure hands.
The platform for an enjoyable day out at the Showgrounds was laid by the Coast to Coast Imports D1-Reserves when they carved out an emphatic 109-point victory over the Roos.
In a solid team performance, where every player contributed, the Beach controlled the game from the outset to win 19.13 (127) to 3.0 (18).
Clearly there were individual winners all over the ground, with Sam Cahill capitalising on that control by kicking six goals.
Dominance began in the middle where Michael Chaffey's ruck work was almost faultless while Ernie Dwyer and Jay Alison-Green were exceptional.
The Indi Bar Brett Jones Colts had endured a tough opening to the season with a challenging draw, but travelled to Dalkeith Oval to play Collegians full of hope.
Collegians started strongly, kicking the first goal of the game, but it was all North Beach from there with the side's leaders in the engine room taking control on the way to an ice-breaking 12.6 (78) to 3.2 (20) win.
Beach full forward Tom Howie showed his ability at ground level with three brilliant crumbing goals in the first quarter to ensure the Tigers held the ascendancy at the first break.
He picked up where he left off at the start of the second quarter and two minutes into the term Howie had five goals to his name.
Collegians could not contain North Beach's on ball brigade, with the likes of Jayden Hunt, Mitch Hunt and Benjamin Hodge proving too hungry for the leather as Cam Emery's run off half back repeatedly sliced through the Collegians' lines.
Not to be outdone, North Beach forward pocket Josh Artaud bobbed up with the next four goals for Beach. Apart from a bit of a scrap in the third quarter, it was smooth sailing for the Tigers who enjoyed the opportunity to open their account.
The Beyond Tools E1-Grade had also had a challenging fortnight to open the season and enjoyed the opportunity to hit the winners' list with a pulsating three-point victory.
While it was a pleasing victory, a couple of bemusing decisions late in the game, almost saw the result slip from the Beach's grasp. But in the end they endured against West Coast 10.4 (64) to 9.7 (61).
The Beach worked hard when the game was on the line, with the backline standing tough in the face of the West Coast challenge.
The ubiquitous Michael Bramley kicked the winning goal with two minutes remaining, although West Coast did have a shot after the siren that, fortunately, sailed wide.
David Gelle, James Bryce, Jacob Wills, Tjaard Tait and Lachlan Green were all in terrific touch for the Beach.
The GJ Osplumb E3-Grade, which will so consistently be the case, ran into an opposition of higher standing than a sixth grade team and although they battled hard, were out-gunned by Piara Waters.
The Galleria Toyota A-Grade women started their season in style, eclipsing Rossmoyne 9.10 (64) to 1.2 (8) in a commanding performance.
Lexi Lindsay, Stephanie Dalton and Zoe Panagopoulos each kicked two goals with a steady supply of opportunities provided by the likes of Sarah Ciosoleto and Tessa Anderson.
The Grange Residential Integrated Rules team came across a well-drilled and highly skilled Coolbinia Outfit for their ANZAC clash.
Coolbinia started strongly with North Beach not scoring until the second quarter when new recruit Ben Morley begin to take advantage of good midfield link up and delivery to  bang through three  quick goals.
Another quiet term in the third, was followed up with the most prolific scoring quarter in the team's history with four final quarter goals.
A highly entertaining game with a much improved game style and skill level beginning to pay dividends for the Tigers.
Results
Hybrid Linings D1-Grade
North Beach      5.3         11.6       19.8       22.10    142
Wanneroo         1.1           4.1         4.1         5.1         31
Goals – North Beach: J Cameron 7; G McColgan 6; C O'Connell 4; Foreman 3; Wickstein, Power.
Best – North Beach: C O'Connell, Coleman, J Cameron, McColgan, Marsh, A O'Connell
Coast to Coast Imports D1-Reserves
North Beach      2.6         9.7         13.10    19.13    127
Wanneroo         1.0         1.0           2.0         3.0         18
Goals – North Beach: Cahill 6; De Rosa 3; Bowden, Allison-Green, Twomey 2; Christie, Dwyer, Hunter, Ugle.
Best – North Beach: Chaffey, Cahill, Dwyer.
Indi Bar Brett Jones Colts
North Beach      3.0         7.2         9.3         12.6       78
Collegians          1.0         1.0         3.1           3.4       22
Goals – North Beach: Howie 5; Artaud 4; Morrison, Cox, Roberts.
Best – North Beach: Howie, J Hunt, M Hunt, Araud, Hodge, Emery.
Beyond Tools E1-Grade
North Beach 10.4 (64) def West Coast 9.7 (61)
Goals – North Beach: Gardiner, Bramley 2; Bryce, Green, Manea, Orr-Young, Wood, Brown.
Best – North Beach: Gelle, Bryce, Tait, Willis, Orr-Young.
GJ Osplumb E3-Grade
Piara Waters 23.11 (149) def North Beach 3.11 (29)
Goals – North Beach: P Clark, Gray, Rose.
Best – North Beach: Humphrey, Gray, Elphick, S Clark, P Clark, Tester.
Galleria Toyota A-Grade Women
North Beach      2.5         3.6         7.7         9.10       64
Rossmoyne        0.1         1.2         1.2         1.2           8
Goals – North Beach: Dalton, Lindsay, Panagopoulos 2; Chiari, Diaz, Merrett.
Best – North Beach: Cosoleto, Anderson, Lindsay, Dalton.
Grange Residential Integrated Rules
Coolbinia            3.2         8.4         10.5       13.6       84
North Beach      0.0         3.0         4.0          6.2       38
Goals – North Beach: Morley 3, Pieters.
Best – North Beach: Morley, Murphy, Kelly.