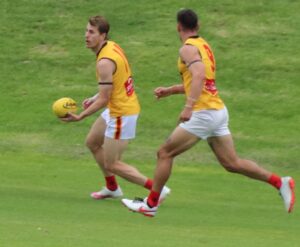 A response was required. It came.
After a disappointing qualifying final defeat to Kingsway, the O'Rourke Realty A-Grade team faced a sudden death final against University and knew they would need to step it up.
They did that with an outstanding effort against the Scholars, winning 11.13 (79) to 5.7 (37) to advance to a re-match with Kingsway in this week's preliminary final, the Roos losing the second semi-final to Curtin University-Wesley.
After falling to defeat in a high octane game against Kingsway, where the ball pinged from end to end with mesmerising efficiency, the Beach needed to produce a game more commensurate with finals footy against University and it came, with the senior players setting the bench mark early in the contest.
Defender Dan Leishman, midfielder Sam Lamont, forward Andrew McGuinness and defender Luke Symonds were all outstanding, enabling the Beach to settle early, establish an early advantage and build on that throughout the contest to ensure they were never under threat.
With x-factor forward Nic Reid also on song, kicking five goals, Dylan Brockbernd playing an important team role and the likes of Steve Mansfield and James Garcia also wielding a strong influence the Beach is now a win away from another Grand Final appearance.
Clearly the last hurdle will take some clearing as Kingsway has won the last two matches between the clubs.
Meanwhile, at South Oval, the Lifenet A-Reserves became the fourth North Beach team to qualify for a Grand Final with a stunning and methodical dissection of Curtin University-Wesley in the second semi-final.
They are shooting for a remarkable fifth consecutive flag at this level, with their entry to the big dance coming after the club's thirds, fourths and fifths all booked their places in season deciders that will be played on Saturday – a week ahead of the A-Grade's big day.
Again emphasising the club's depth, the Beach dominated from the outset in winning 9.10 (64) to 0.5 (5). To hold the opposition goal-less in a back final at their home ground was testimony to the pressure and heat they took to the contest.
Ruckman Josh Chapman and midfielder Nic Bowe, who filled the top two positions on the podium in the A-Reserves voting at the PFL Awards on Monday night, again exerted a strong influence, ensuring a steady flow of opportunity inside the forward half.
Nathan Adler, Nick Wells and Tim Edwards were strong performers and dangerous around goal, while Chris Wells, experienced midfielder Josh Stott and developing defender Jack Merson were also eye-catching in what was a sublime team performance.
O'Rourke Realty A-Grade
First Semi-Final
North Beach       2.2          6.7          9.8          11.13     79
University           1.2          1.3          4.6          5.7          37
Goals – North Beach: Reid 5; Ekert 2; Brockbernd, Lamont, Leishman, McGuinness.
Best – North Beach: Leishman, Reid, Lamont, McGuinness, Brockbernd, Garcia, Mansfield.
Lifenet A-Reserves
Second Semi-Final
North Beach       1.2          4.6          8.6          9.10        64
Curtin Wesley    0.1          0.2          0.3          0.5           5
Goals – North Beach: Adler, Edwards, N Wells 2; Johnson, Cownie, Bowe.
Best – North Beach: Bowe, Chapman, Stott, N Wells, C Wells, Merson.