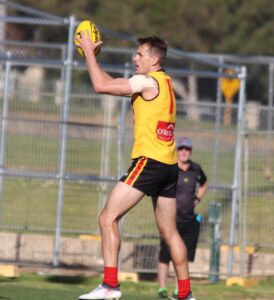 For some inexplicable reason certain teams match up well against others.
Regardless of ladder positions there is almost a guarantee of a tight, absorbing contest. That has been the case in recent years when North Beach has played Wembley.
Unfortunately, in that time, Wembley has prevailed in important games  – largely as the underdogs. That was again the case last Saturday when the O'Rourke Realty A-Grade confronted the Magpies under lights at Pat Goodridge Reserve.
A chilly night in the city became positively freezing with the Beach struggling to get warm, slipping to a seven-point defeat, 8.7 (55) to 9.8 (62).
The ramifications of defeat and victory are pronounced. Wembley currently sits in the bottom half of the table and will be fighting to remain in A-Grade; North Beach is a finals contender with aspirations of a top three finish and a loss of this nature is damaging.
The Magpies were aware of the stakes, produced a committed and sustained effort and were deserving of victory.
For the Beach, it was a disappointing performance, failing to reach the heights expected of a team with high ideals, but that assessment should not under estimate the performance of Wembley.
At times the Beach did splutter into life and looked capable of working their way to victory, but there simply was not enough support for the likes of Dan Leishman through the middle, Kyle C ranley in the ruck and playing forward, young defender Austin Sheard and Chris Bottechia, as well as experienced forward Andrew McGuinness – the Tigers' only multiple goal-kicker.
The all-conquering Lifenet A-Reserves also had issues maintaining their lofty standards on the way to a 65-point victory against the Magpies.
Over the previous three games the Beach had conceded just two goals in total and Wembley kicked as many in the opening term, which was the most challenging 20 minutes Scott Holbrook and his team had encountered for some time.
The Beach adjusted to the pressure of the contest after the break and went on to win 13.14 (92) to 4.3 (27).
Midfielder Arran Goddard-Nash relished the challenge, young utility player Nathan Torre was again solid, while Nathan Adler continued to reap the benefits of a dominant engine room, bagging another six goals.
Young defender Matt Murray continues to impress, wingman Dan Ryan has built a strong body of work over the first six rounds while Tim Edwards and Jordan Brooks have been constants in the unblemished start to the year.
The Plasterwise Phil Scott Colts carved out a workmanlike 25-point victory over Wembley to get the day started – enduring 7.12 to 4.5 in a scrappy affair.
The Beach won all of its key performance indicators – the inside 50 count, contested possession and clearances but that failed to translate to scoreboard pressure.
The Beach amassed 19 scoring shots to nine, but failed to maximize the return on that dominance.
Both the accuracy and methodology in moving the ball into scoring range needs some work.
Despite chugging along in second gear, the Beach is finding a way to win so there is plenty of upside.
Jack Davidson was impressive up forward, Madoc Plane and Stratton Sargant were solid in the middle, along with first-gamer Eamon Gilbert while Jack Merson and Judd Clinch were outstanding down back.
The Galleria Toyota A-Grade women suffered their first loss of the season against another undefeated team going into this match – University.
It was a tight arm wrestle throughout, particularly in a goal-less first half, before the Scholars emerged with the points 4.4 (28) to 2.0 (12).
Two of the stars for the Beach in the opening month, Sarah Cosoleto and Sally Ford, kicked the Beach's two goals.
The Grange Residential I-Grade, travelled to the hills play High Wycombe, a considerably more experienced team and the Beach continued a season of growth.
High Wycombe  dominated through large parts of the game with a more experienced outfit and some bigger bodies able to mark and move the ball effectively through the corridor.
Regardless the North Beach Tigers refused to submit and put up a strong showing all around the ground that demonstrated a depth of heart and team spirit.
Liam  Williams brought the house down with his first goal of the year.  It takes a lot for Liam to get on the field let alone involve himself due to his anxious nature and his efforts were inspiring to all.
A heartfelt thank you and appreciation also of High Wycombe and their playing group for a thoughtful and positive interaction with our less able players.  They shared the ball and provided opportunities for players to be involved in the game in many ways.  A credit to themselves and the competition.
Results
O'Rourke Realty A-Grade
Wembley           2.4         4.6         6.5         9.8         62
North Beach      3.2         5.3         7.4         8.7         55
Goals – North Beach: McGuinness 2; Leishman, Cownie, Cranley, Deegan.
Best – North Beach: Leishman, Cranley, Sheard, Bottechia, McGuinness.
Lifenet A-Reserves
North Beach      4.2         7.9         9.10       13.14    92
Wembley           2.2         2.2         4.2           4.3       27
Goals – North Beach: Adler 6; Brooks 3; Edwards 2; Ryan, Foley.
Best – North Beach: Goddard-Nash, Torre, Adler, Murray, Ryan, Edwards, Brooks.
Plasterwise Phil Scott Colts
North Beach      2.2         3.5         6.7         7.12       54
Wembley           1.1         2.3         2.5         4.5         29
Goals – North Beach: Davidson 2; Corbett, Boylan, Thomas, Gardiner, Gilbert.
Best – North Beach: Davidson, Plane, Sargant, Merson, Clinch.
Galleria Toyota A-Grade women
University           0.1         0.1         1.4         4.4         28
North Beach      0.0         0.0         1.0         2.0         12
Goals – North Beach: Cosoleto, Ford.
Best – North Beach: N/A
Grange Residential Integrated Rules
High Wycombe 4.3         9.4         10.6       15.6       96
North Beach      1.0         2.0           2.0         6.0       36
Goals – North Beach: Liam, Taj 2; Mailey, Jules, Will.
Best – Team effort.