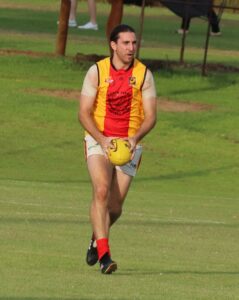 It seems like a long time since the O'Rourke Realty A-Grade ventured to Dalkeith Oval.
While Collegians re-entered the A-Grade competition last season, after a few years in B-Grade, the only clash between the two clubs in an abridged version of the 2020 campaign, was played at Charles Riley Reserve.
Apparently much has changed since we were last there, including an upgrade of the change room facilities which was desperately needed.
What hasn't changed is the level of respect for Collegians, who have large drawing power from the college system in the western suburbs and a tight alignment with Claremont.
With a WAFL bye across this weekend for a State match it is likely that Collegians will have some peripheral players from the Tigers needing a hit-out. They will filter back to the Perth Football League meaning the relevant ladder positions will be inconsequential.
North Beach is undefeated after four completed matches, bearing in mound the round three clash with Curtin University-Wesley did not go ahead because of the COVID-19 lock-down across the ANZAC long weekend.
Collegians have just one victory, but are always dangerous particularly on their own deck.
The Lifenet A-Reserves are also undefeated and confront a team with just one victory from four matches, so they should continue their good form with some senior players starting to work back after pre-season injuries.
The Plasterwise Phil Scott Colts face a searching test against Collegians; they sit on top and fourth respectively, but the top five teams in the competition have lost just one match.
Again, Collegians will be bolstered by a few Claremont colts this match will be a crucial test for the young Tigers.
The Hybrid Linings C5-Grade and the Beast Carpet Cleaning C5-Reserves will go to Hamer Park to confront Mt Lawley where they will look to extend their stellar form.
The Peak Body Fitness C4 women will kick off proceedings at Charles Riley Reserve, followed by the Indian Ocean Hotel Brett Jones Colts. Also playing at home base will begin the day's proceedings at Charles Riley Reserve against Kingsway.
The Beyond Tools E2-Grade and the GJ Osplumb E3-Grade will play Curtin University-Wesley and Wembley respectively while the Project Ceilings A-Grade women will play Nollamara at Des Penman Reserve.
Fixtures
Saturday, May 15
O'Rourke Realty A-Grade
Collegians v North Beach, Dalkeith Oval, 2.40pm
Lifenet A Reserves
Collegians v North Beach, Dalkeith Oval, 12.50pm
Plasterwise Phil Scott Colts
Collegians v North Beach, Dalkeith Oval, 11am
Indian Ocean Hotel Brett Jones Colts
North Beach v Kingsway, Charles Riley Reserve, 11am
Project Ceilings A-Grade women
Nollamara v North Beach, Des Penman Reserve, 11.05am
Peak Body C-Grade women
North Beach v Curtin University-Wesley, Charles Riley Reserve, 9.30am
Hybrid Linings C5-Grade
Mt Lawley v North Beach, Hamer Park, 2pm
Beast Carpet Cleaning C5 Reserves
Mt Lawley v North Beach, Hamer Park, 12pm
Beyond Tools E2-Grade
North Beach v Curtin University-Wesley, Charles Riley Reserve, 2.40pm
GJ Osplumb E3 Grade
North Beach v Wembley, Charles Riley Reserve, 12.50pm
Grange Residential Integrated Rules
Bye