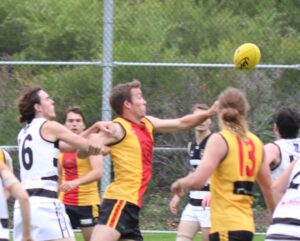 If a statement was needed, it was delivered. In spades.
The Hybrid Linings C5-Grade and the Beast Carpet Cleaning C5-Reserves are both undefeated with the finals looming and confronted fellow contenders Trinity Aquinas at Charles Riley Reserve last Saturday.
The penultimate round of the season represented a significant challenge, but both teams met the situation front on.
In possibly the most complete performance of the season against TA, the C5-Grade (threes) were "on" from the first bounce as they completed a dominant 15.10 (100) to 2.1 (13) victory.
The North Beach midfield was dominant while the pressure exerted by the forwards and the cohesion in defence meant the Boomers were never in the contest. So much so that TA did not score at all in the 2nd half.
Luke Hopkins was superb in defence and Nick Wells ran them ragged off his wing, culminating in one of the best individual goals of the season. Matt Irvine and Jamie Bennett were strong through the middle and served as strong targets in the forward line.
Tom De Courtenay was ever reliable and Mason Rollo responded well to a challenge and finished with four goals.
The C5-Reserves confronted the third best side of the season in Trinity Aquinas who needed to beat the Beach to lock away third spot, but fell a long way short as North Beach produced a 13.12 (90) to 3.3 (21) triumph.
They came to play in the first quarter capitalising on a few of our mistakes and kicked the first goal of the day. After the first quarter the Beach started to get on top and considering the conditions were very clean in transitioning from defence to attack.
Sam Zehnder had an outstanding game taking a number of big contested marks but unfortunately hurt his quad in the final quarter. Isaac Seidner provided a lot of spark on a wing, and Tully Wickstein was dangerous up forward all day.
Brendan Collins had an imposing impact at centre half-back intercepting a number of Trinity Aquinas attacks.
The win secured top spot so the team will have the bye for the first week of finals, and due to the 3s also locking away top spot; guarantees a home preliminary final.
The Indian Ocean Hotel Brett Jones Colts were comprehensive winners against North Fremantle and are running into the best form at the right time of the season.
They controlled the game from start to finish on the way to a 15.10 (100)-1.5 (11) victory.
Rhys Irvine and George Mortimer were a constant menace for the Maggies up forward in what was a strong four-quarter performance while Kai Jones produced his most influential game of the year.
In cahoots with Louis Marlam, they controlled the midfield, feeding off the work of rotating ruckmen Jake Moreschini and Connor Budmir.
The Beyond Tools E2-Grade continued to build their form with finals looming, scoring an emphatic 91-point victory over Kingsway.
Sam Cahill, Fletcher Cooke, Connor Goodin and Dean Wilson were the forefront of the architects of the victory while Wes Maxfield and Luke Kuppens kicked three goals, in concert with Cahill and Gooden.
The GJ Osplumb E3-Grade seized their opportunity against Gosnells, piecing together a comprehensive victory over Gosnells. They dominated from the outset in winning 12.15 (87) to 0.1 (1) on the Hawks home deck.
The return of ruckman Ben Evans was a key factor which ensured the Beach had first use of the ball. Jack Manea, Josh Veroni and Jack Lazenby were beneficiaries of his influence while Elias Cuzens and Aaron Ugle were also outstanding on the wings.
Brayden Bowden was a reliable avenue up forward, finishing his game of with five goals while Aaron Franklin pushed up high to create space inside the attacking arc, but was also important as the Beach switched play.
Defensively, Jacob Fitzroy and Mark Kouroulis were exceptional in what was a satisfying road trip.
Details
Hybrid Linings C5-Grade
North Beach       3.3          7.6          9.8          15.10     100
Trinity Aquinas  1.1          2.1          2.1          2.1           13
Goals – North Beach: Rollo 4; M Cameron, J Cameron, N Wells, Brooks 2; De Courtenay, Irvine, Torre.
Best – North Beach: Hopkins, N Wells, Irvine, De Courtenay, Bennett, Rollo.
Beast Carpet Cleaning C5-Reserves
North Beach       4.2          7.5          9.8          13.12     90
Trinity Aquinas  2.2          2.3          3.3            3.3        21
Goals – North Beach: Zehnder 4; Wickstein 3; McAuliffe, Cuzens 2; Luck, Hingston.
Best – North Beach: Zehnder, Seidner, B Collins, Wickstein, Stevens, Duncan.
Indian Ocean Hotel Brett Jones Colts
North Beach       4.1          7.3          12.5        15.10     100
North Frem         0.1          1.2          1.2           1.5          11
Goals – North Beach: Irvine, Mortimer 4; Gasiorowski, Budimir, Ranson, Keay, Cortese, McLeod, Saunders.
Best – North Beach: Jones, Naylor, Budimir, Marlam. Mortimer.
Beyond Tools E2-Grade
North Beach 19.8 (122) def Kingsway 4.7 (31)
Goals – North Beach: Maxfield, Cahill, Goodin; Kuppens 3; Osborne 2; Persichitti, Cooke.
Best – North Beach: Cahill, Cooke, Goodin, Wilson, Maxfield, Tobin.
GJ Osplumb E3-Grade
North Beach 12.15 (87) def Gosnells 0.1 (1)
Goals – North Beach: Bowden 5; Hardeman 2; Fitzroy, Lazenby,  Veroni, Winterton, Kanakis.
Best – North Beach: Evans, Bowden, Veroni, Lazenby, Franklin, Ugle, Kouroulis.