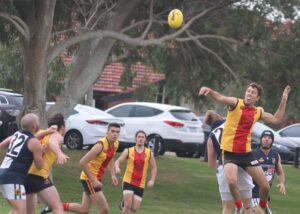 Consolidation was the theme of the day for the Hybrid Linings D1-Grade as they confronted neighbours Whitford in a pivotal clash at Charles Riley Reserve.
Ladder positions suggested it should have been a comfortable victory, but with finals looming it's important to keep the momentum rolling. And the Beach anticipated a much stronger opponent this time around, compared to the team they eclipsed early in the season.
The Beach was confident if it could withstand the early pressure, its fitness and intensity would prevail. This proved to be the case, building on a two-goal half-time advantage to outscore the Warriors seven goals to nil thereafter.
That all added up to a 10-goal win.
The older heads in the midfield – Dean Wilson, Cameron Alco and Trevor Lang – guided the younger mids through the initial onslaught and then Jayden Black, Jacob Desmond and Josh Tickner stepped up and ran the game out strongly.
Liam Pardini led the defence with composure and was ably supported by Lucas Gardiner, Shane Duckworth and Aran O'Connell.
Up front, the usual targets (Josh Cameron with three goals and Rio Hughes with two) were constantly creating opportunities and were supported by Ben De Rosa and Craig Hall who both capped off good games with two goals apiece.
Perhaps the Hybrid Linings team had taken note of the performance in the earlier game when the Coast to Coast Imports D1-Reserves fell to Whitford in a five-point thriller – 9.7 (61) to 8.8 (56).
The Beach was sluggish out of the blocks, leaving too much work to do in the run home and despite a five-goal final term, fell agonisingly short of victory.
While disappointing, the loss should not have any long-term consequences with the Tigers assured of a top four finish and having little chance of influencing home finals.
Khalil Campbell provided typical energy through the midfield with Tully Wickstein lively up forward and the ultra-consistent Michael Humphry and Tyler Hurley doing all they could to get their team across the line.
The juggernaut that is the GJ Osplumb E3-Grade continued to wreak a trail of devastation, demolishing Swan Valley by 115 points.
There was an even spread of goal-kickers with Sam Harrison and Corey Bruse kicking three each while Jake Hutchison was again a spark through the midfield, Steven Clark and Jacob Willis also influential in an outstanding team performance.
The Galleria Toyota A-Grade women scored an important psychological advantage over likely finals rival West Coast, returning to the winners' circle with a thrilling three-point triumph.
After holding sway all day, the Beach had to stave off the fast-finishing West Coast to win 3.6 (24) to 3.3 (21).
Sarah Cosoleto was important in finishing off the work of the midfield, kicking two goals, while Olivia Hongell, Sally Ford and Tessa Anderson were outstanding through the middle.
Ellen Duncan was a stabilising influence down back while Steph Ball and Olivia Stewart were also important.
The Grange Residential I-Grade again underlined their vast improvement, taking the game up to one of the competition's power teams, Coolbinia.
Losing by just 14 points against a competition benchmark was an outstanding achievement by a team that continues to grow every week. Coach Peter Panagopoulos was justifiably proud of a wonderful team effort.
Hybrid Linings D1-Grade
North Beach      3.5         4.5         6.10       11.13    79
Whitford            2.3         2.3         2.4           2.6      18
Goals – North Beach: J Cameron 3; Hughes, Hall DeRosa 2; Pow, Desmond.
Best – North Beach: Pardini, Gardiner, A O'Connell, J Cameron, Wilson, Alco, Lang.
Coast to Coast Imports D1-Reserves
Whitford            4.0         5.5         7.6         9.7         61
North Beach      0.2         2.4         3.7         8.8         56
Goals – North Beach: Wickstein 3; Bryce, McAuliffe, Evans, Zehnder, Christie.
Best – North Beach: K Campbell, M Humphry, Wickstein, Hurley.
Beyond Tools E1-Grade
North Beach 15.0 (90) def Kingsley 0.1 (1) [forfeit]
GJ Osplumb E3-Grade
North Beach      6.5         9.9         12.15    17.21    123
Swan Valley       0.0         1.0           1.1         1.2           8
Goals – North Beach: Harrison, Bruse 3; S Clark, Winterton, Galvin, Procak 2; Beard, Hutchison, Gomez.
Best – North Beach: Hutchison, S Clark, Harrison, Willis, Hack, M Clarke
Galleria Toyota A-Grade Women
North Beach      1.3         2.4         3.6         3.6         24
West Coast        0.0         2.0         2.0         3.3         21
Goals – North Beach: Cosoleto 2; Maher.
Best – North Beach: Hongell, Ford, Cosoleto, Anderson, Duncan.
Grange Residential Integrated Rules
Coolbinia            2.2         8.7         8.7         11.7       73
North Beach      1.0         6.4         6.4         9.5        59
Goals – North Beach: McIntyre 2; Parotte, Blevins, Pieters, Willers, Williams, Kelly.
Best – Team effort.