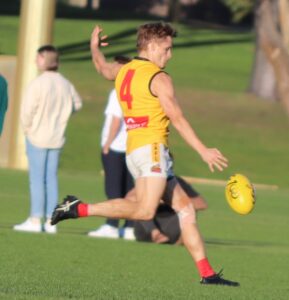 It was a bitter-sweet day for the North Beach Football Club last Saturday.
Bitter in the sense that the season ended for both the club's colts teams and that the O'Rourke Realty A-Grade outfit lost a qualifying final, but at least the seniors live to fight another day.
Sweet – because three teams won second semi-finals and have earned direct entry into their respective grand finals (full match reports and details to follow).
The A-Grade match, which saw the Beach tackle third-placed Kingsway at Charles Riley Reserve, presented an opportunity for them to advance to the second semi-final, but they found Kingsway to be a little too clean and efficient on the day.
It was the second time this season the Roos proved a little too slick for North Beach, winning 14.5 (89) to 11.13 (79). While it would be too simple suggest the result was determined by goal-front (in)accuracy, it was a factor.
The Beach had more of the ball inside their forward half, but did not make the most of their opportunities while Kingsway, conversely, were deadly in front of goal. They also managed to cut the forward 50, with the majority of their entries being in a position where they were highly probable to convert.
Beach skipper Mitch Dwyer and ruckman Mitch Mackenzie were outstanding, but there were a lot of North Beach players who fell short of their own expectations.
Christian Bottechia was solid across half-back, Nic Reid kicked three goals and was the most threatening forward while Ned Halley and Dan Leishman also tried all they could to propel their team over the line.
The Beach now plays University in a sudden-death first semi-final against University at Charles Riley Reserve.
The Plasterwise Phil Scott Colts had a rough finish to the season, playing the best teams in the competition over the last month of the qualifying rounds before running into Curtin University-Wesley in the elimination final.
The Beach boys were just marginally short of the pace-setters in the competition, but took the game right up to Curtin before the opposition edged clear to win 10.6 (66) to 7.6 (48).
As has been the case in recent years, a younger North Beach team ran into a mature opponent, but players like Justin Prior, Matt Coleman and Nathan Perry, who set high standards throughout the season, continued to will their team across the line.
Chris Papadopoulos, Kobi Martin and Jason Rocke, others who had outstanding seasons, sustained that form despite the outcome.
The Indian Ocean Hotel Brett Jones Colts, who had been exemplary from in the six weeks leading into the finals, found Swan Athletic a little too strong in the first semi-final, reversing the result from a fortnight earlier.
Again the Beach made a bright start, led by five points at half-time, but couldn't match Swan Athletic at half-time, going down by 30 points – 9.8 (62) to 4.8 (32).
George Mortimer was lively up forward and Rhys Irvine was also solid, but Swan Ath had all the answers.
Results
O'Rourke Realty A-Grade
Qualifying Final
Kingsway             4.0          8.1          11.2        14.5        89
North Beach       3.5          4.8          9.12        11.13     79
Goals – North Beach: Reid 3; Mackenzie, M Dwyer 2; Lamont, Ekert, Garcia, McGuinness.
Best – North Beach: M Dwyer, Mackenzie, Bottechia, Reid, Halley, Leishman.
Plasterwise Phil Scott Colts
First Semi-Final
Curtin-Wesley   3.0          6.2          8.4          10.6        66
North Beach       4.1          4.2          5.6            7.6        48
Goals – North Beach: Perry, Prior 2; Foley, Kirkpatrick, McCaffrey-Nichols.
Best – North Beach: Prior, Coleman, Perry, Papadopoulos, Martin, Rocke.
Indian Ocean Hotel Brett Jones Colts
First Semi-Final
Swan Athletic     2.3          3.5          6.5          9.8          61
North Beach       1.1          4.4          4.7          4.8          32
Goals – North Beach: Mortimer 2; Irvine, O'Malley.
Best – North Beach: Naylor, McLeod, Mortimer, Emes, Stephenson.