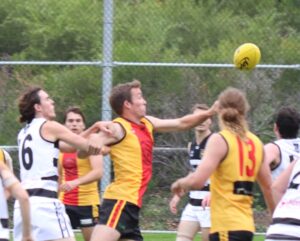 5-4-3-2-1….Boom! Three of the club's lower grade teams launched their finals campaigns in spectacular fashion last Saturday.
The qualifying rounds are there for the purpose of building a launch pad at the business end of the season and the Hybrid Linings C5-Grade, Beast Carpet Cleaning C5-Reserves and Beyond Tools E2-Grade all capitalised last Saturday.
Each of those teams won second semi-finals to advance straight to the Grand Final where they have the luxury of having a rest this weekend and begin preparations for their opponents.
The thirds and fourths both finished at the top of the table and played second at Charles Riley Reserve last Saturday – the C5-Grade against a North Fremantle team that had received a healthy injection of talent and the fourths against the only team to beat them during the year – Curtin University-Wesley.
After a tight first half the energy and enthusiasm of a young North Beach outfit saw the thirds claw their way to a gritty 23-point victory  – 10.11 (71) to 7.6 (48).
Down by nine points at half-time the Beach stuck to their guns and with seven goals to two after the main break powered their way to victory.
Ruckman Tom De Courtenay continued his rich vein of form and with the experience and composure of Matt Irvine and Matt Holden around the footy, the Beach began to take charge.
Capitalising on the wave of opportunities – as they have done all season – Mitch and Josh Cameron were ubiquitous up forward, kicking three goals apiece.
The C5-Reserves confronted their nemesis, but got the job done with a dominant display from start to finish – holding Wesley goal-less in the first half on the way to winning 10.7 (67) to 5.9 (39).
The first quarter was hotly contested, with minimal scoring opportunities for both sides, which became a pattern as each set up very well defensively and intercepted a lot of forward entries.
As the game progressed the Beach started to get the better of Wesley in some contests and were able to capitalise on this with some scoreboard pressure. Nic Baroni played an outstanding game with a new role as a lockdown defender on a very dangerous opponent, giving him little space all day, and completely nullifying his impact on the game.
Isaac Seidner threatened to tear the game apart on multiple occasions, and kicked a crucial goal deep in the forward pocket in the second half. Kahlil Campbell started the game up forward and exhibited brilliant defensive pressure, but with an injury to a defender late in the first quarter was thrown down back and was equally effective.
Vaughn Quinlan kicked three goals up forward and was particularly effective getting front and centre to contests throughout the game while the midfield group including Joel Brown, David Purser and Jack Stevens were exceptional, winning the contested battle for the day.
The Beyond Tools E2-Grade, who made their way into the second semi-final against Bassendean by virtue of an unforgettable qualifying final victory, carried that momentum forward to advance after another absorbing battle.
It was not as dramatic as the double over-time, last gasp win a week earlier but it still pushed the heart rate through the roof.
The Beach, buoyed by the knowledge that their best is good enough to win against any opposition, strode immediately to the grand final with a 5.5 (35) to 3.7 (25) triumph.
The usual suspects – Joel Temm, Fletcher Cooke, Jayden Hunt and Connor Goodin – were all prominent, along with the QF hero Tim Langsford and Jacob Willis.
Hybrid Linings  C5-Grade
Second Semi-Final
North Beach      2.4         3.7         5.10       10.11    71
North Frem        2.2         5.4         6.5           7.6       48
Goals – North Beach: M Cameron, J Cameron 3; Burton, Brooks, N Wells, Black.
Best – North Beach: De Courtenay, Holden, Irvine, J Cameron, M Cameron.
Beast Carpet Cleaning C5-Reserves
Second Semi-Final
North Beach      1.0         4.3         5.6         10.7       67
Curtin-Wesley   0.2         0.5         2.7         5.9        39
Goals – North Beach: Quinlan 3; Rollo 2; Miotti, Seidner, Purser, Dunjey, Wickstein.
Best – North Beach: Baroni, Seidner, Campbell, Quinlan, Brown, Purser, Stevens.
Beyond Tools E2-Grade
Second Semi-Final
North Beach 5.5 (35) def Bassendean 3.7 (25)
Goals – North Beach: Goodin 3; Kuppens, Hingston.
Best – North Beach: Temm, Cooke, Hunt, Goodin, Langsford, Willis.