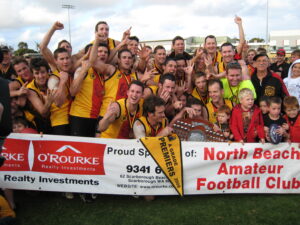 While the current playing group is in the moment, focused on what it can achieve across the 2019 campaign, the North Beach Football Club will focus on its proud history next weekend.
The Tigers have a rare opportunity to celebrate three decades of A-Grade premierships and will bring together the successful teams of 1989, 1999 and 2009 as the clubs takes on Kingsway at Charles Riley Reserve next Saturday (May 25).
Those teams were part of a remarkable era of success, laying the cultural foundation for the club we know today.
The reunion will bring together some of the luminaries in club history, including those who forged the first premiership in 1989 under the direction for former West Perth star Corry Bewick. That was the club's first A-Grade pennant, and they went back-to-back in 1990.
By 1999, former Essendon Norm Smith medallist and West Perth hard nut Bill Duckworth was in his fourth year as senior coach at the Beach and he steered the club to its fourth A-Grade premiership, his first.
That was the start of an unparalleled run of success, as he plotted the Tigers' path to 10 premierships in 12 years, including seven in succession from 2004-10.
Obviously, by reconciling that run of success, a record in senior football in Australia, Duckworth was also at the helm in 2009.
Two men central to the team in both 1999 and 2009, versatile big man Simon Pearce and midfield bull Chris Perkin, arguably the best and most decorated player in club history, played in both of those premierships.
Indeed, Perkin played in all 10!
Current A-Grade coach Shane Paap was also an integral part of the 2009 triumph and will also enjoy the opportunity, when his commitments are completed, to catch up with the teammates with whom he shared the ultimate experience.
With such luminaries returning to the club, albeit the modern version of the modest venue that was home to this unprecedented run of glory, it promises to be a special day in Beach history.