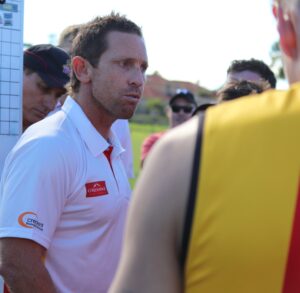 On a day when the North Beach Football Club celebrates three great milestones in its history, two men who were integral to the most recent of those successes will be engaged in trying to plot the path to more premierships.
The North Beach premiership teams of 1989, 1999 and 2009 will assemble at Charles Riley Reserve to reflect on their achievements, to catch up with teammates they may not have seen for many years.
But in the middle of the action on hallowed home turf, O'Rourke Realty A-Grade senior coach Shane Paap and champion midfielder Beau Witheridge, will be doing their best to unseat Kingsway in an important clash that will help shape the direction of the 2019 campaign.
Witheridge is the last remaining active player from that 2009 triumph when he was an exciting young prospect who has more than fulfilled his potential. Paap was a key senior figure in that team, impacting through the middle and up forward.
While the Beach will be looking for a response to a disappointing loss to Wembley last Saturday, ironically one man standing in their way has a strong North Beach connection – Kingsway coach Craig Dalton.
A former player and coach of the successful 2016 Phil Scott Colts team, Dalton is in his second season as senior coach of Kingsway.
Paap, Witheridge and the rest of the senior team will be keen to rebound from a sluggish performance against the Magpies and will be looking to kick-start the effort in the engine room.
Players like Mitch Gill, Dan Leishman and Dion Cownie will be important in meeting that objective, along with ruckman Kyle Cranley.
Kingsway boasts some firepower up forward, led by former Fremantle-listed player Mark Wood so defensively the Beach will need to be on their mettle.
The Lifenet A-Reserves will be looking to preserve their unblemished start to the season as a number of players who have been central to their clean sheet over the first six rounds pushing for elevation.
Catalysts through the midfield have been players like Arran Goddard-Nash, Dan Ryan and Nathan Torre, while Matt Murray and Matt Raynor have been outstanding in defence, with Sean Foley and Nathan Adler have finished off the work up forward.
The Plasterwise Phil Scott Colts have been chugging along, searching for their best football, but they have, for the most part, been getting the job done.
They will be hoping to complete this first phase of matches – ahead of the bye for the long weekend – with another victory to stay in touch with a top three position.
FIXTURES
Round 7
O'Rourke Realty A-Grade
North Beach v Kingsway, Charles Riley Reserve, 2.30pm
Lifenet A-Reserves
North Beach v Kingsway, Charles Riley Reserve, 12.35pm
Plasterwise Phil Scott Colts
North Beach v Kingsway, Charles Riley Reserve, 10.40am
Hybrid Linings D1-Grade
University v North Beach, McGillivray Oval, 2.45pm
Coast to Coast Imports D1-Reserves
University v North Beach, McGillivray Oval, 12.50pm
Indi Bar Brett Jones Colts
Curtin Wesley v North Beach, South Oval, 10.55am
Beyond Tools E1-Grade
Kingsway v North Beach, Kingsway Reserve, 2.30pm
GJ Osplumb E3-Grade
Kalamunda v North Beach, Ray Owen Reserve, 2.30pm
Galleria Toyota A-Grade Women
Curtin Wesley v North Beach, South Oval, 9.30am
Grange Residential I-Grade
Wembley v North Beach, Steel Blue Oval, 9am