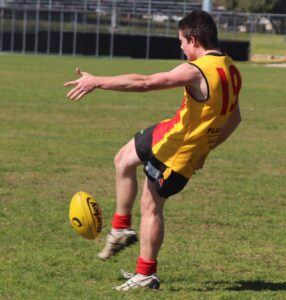 A slow start proved costly for the Hybrid Linings C5-Grade when they fell agonisingly short against North Fremantle where the home ground advantage proved decisive.
The Beach too a little while to get rolling, but were coming home like a tsunami before running out of time and opportunities and losing 6.8 (44) to 7.5 (47).
After a defeat by Uni the previous week in a display that would have undone a lot of sides graded higher than our thirds, the team knew they had to beat the Magpies to secure second spot and the double-chance.
However, it seemed we were still a bit gun-shy after the University game and allowed North Fremantle to kick five goals in the first 20 minutes. It wasn't through lack of effort nor a willingness to compete, it just looked like the boys were severely lacking in confidence and trust.
So at quarter time with a few tweaks and encouragement the Beach remained positive and played their brand of footy. And it almost worked. After quarter time, we outplayed and outscored them 6.5 to 3.2 and actually kept them scoreless in the last quarter.
If the game had gone another two minutes, we surely would have won such was our dominance. And that included starting the last quarter with just 19 fit players.
It was a gut-wrenching loss but the coaching staff were enormously proud of the players comeback and their courage and commitment against a physically bigger opponent.
Craig Hall again led from the front and after being felled heavily in the third quarter he returned in the last and almost dragged his team over the line. The enormously talented Jack Steel was right with his skipper and his influence on the game was profound.
Travis Burton belies his size with his attack on the ball and led from the front all day, Jacob Fitzroy played his best game of the season and was impassable in the back half while Callum Corbett also responded from a huge hit in the first quarter to finish the game full of running,
James Twomey, in his first game of 3s, shut down two very dangerous forwards.
The Coast to Coast Imports C4-Reserves completely out-pointed, North Fremantle and won 20.20 (140) to 2.2 (14).
With a scoreboard as lop-sided as that, the Beach had winners all over the ground, with Brennen Irvine, Ben Evans and Joel Brown standouts.
Nathan Adler kicked four goals while Levi Cooper and Evans each kicked three. The victory means the fours still have an outside chance of sneaking a top two finish, but everything would need to perfectly fall into place on Saturday.
The Indian Ocean Hotel Brett Jones Colts produced another sublime performance, winning 22.11 (143) to 0.3 (3).
Once again, with such a dominant team performance there were winners in every position, with George Mortimer, Reef Samuels and Tom Hiotis having a strong impact on the scoreboard.
Unfortunately the Beyond Tools C4-Grade and the GJ Osplumb C4-Reserves, found the opposition overwhelming when they ventured to Piara Waters.
Details
Hybrid Linings C5-Grade
North Frem         4.3          6.4          7.5          7.5          47
North Beach       0.3          3.4          4.4          6.8          44
Goals – North Beach: Hall, Zehnder 2; Jennis, Sawyer.
Best – North Beach: Hall, Steel, Fitzroy, Burton, Corbett, Twomey.
Coast to Coast Imports C5-Reserves
North Beach       5.6          13.9        17.10     20.20     140
North Frem         0.0          0.0         2.1           2.2          14
Goals – North Beach: Adler 4; Cooper, Evans 3; Christie, Irvine 2; Davis, Morrison, Tobin, Gray, Sullivan.
Best – North Beach: Irvine, Evans, Brown, Morrison, Davis, Cooper, Adler.
Beyond Tools C4-Grade
Piara Waters 33.19 (217) def North Beach 0.0 (0)
GJ Osplumb C4-Reserves
Piara Waters 17.10 (112) def North Beach 2.3 (15)
Indian Ocean Hotel Brett Jones Colts
North Beach       3.3          8.8          15.10     22.11     143
North Frem         0.2          0.3          0.3           0.3            3
Goals – North Beach: Mortimer 4; Hiotis, Samuels 3; Smith, Farrell 2; McLeod, Hodge, Llanwarne, Irwin, Quayle, Supanz.
Best – North Beach: Mortimer, Samuels, Irwin, Hiotis, McLeod, Hodge.