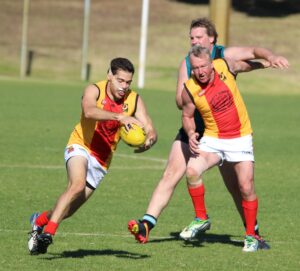 While the senior teams get the opportunity to take a collective breath tomorrow, it's business as usual for the majority of the North Beach teams who go in to battle with plenty at stake.
As we roll into the back end of the year, it's important to build momentum, with all teams in finals calculations.
The Hybrid Linings D1-Grade are entrenched in the top three, sitting behind University and Fremantle CBC, and get the chance to consolidate their standing when they play lowly Wembley at Pat Goodridge Reserve.
To emphasise the depth of talent available to the Beach, players of the calibre of Michael Duckworth, Craig Hall, Liam Pardini, Caolan O'Connell, Alex Coleman, Mark Foreman and Callan Dunjey will be a part of the Tigers contingent in this game.
Most of those players have played at higher levels, some in the club's A-Grade team, and all are capable of pushing higher.
They are mixed with some exciting youngsters who are continue to develop and are part of the reason why the club is so buoyant about the future.
They should carry too much fire-power for Wembley, while the Coast to Coast Imports D1-Reserves also boast some formidable talent and will continue to push to loftier heights than their current standing in third spot.
They are equal on points with Curtin-Wesley and University and have a terrific opportunity on which to build.
Names like Adam Miotti, Michael Collins, Jack Lazenby, Ben McAuliffe, Xavier Williamson, Mitch Christie and Jordan Mesiti permeate through this team and all are accomplished exponents of our great game.
The Indi Bar Brett Jones Colts have the opportunity to drive a chasm between themselves, in third position, and the chasing pack if they can despatch fifth-placed Collegians at Charles Riley Reserve.
Joel Gray has his team humming along and they were in a position at three-quarter time last week to unseat the undefeated CBC Fremantle, before failing to finish the contract.
They have quality across the lines, some outstanding finishers in front of goals, and should get the job done against the students.
The Beyond Tools E1-Grade play one of the pivotal games of their season when they host West Coast at Charles Riley Reserve.
In a tight competition, North Beach sits in sixth place, just six points adrift of third-placed West Coast. If they get over the line in this game the positions in the bottom half of the top five will get even more intriguing.
The challenge of lifting the team to victory obviously will require a team performance, but players like Tjaard Tait, Jamie Cosgrove, Jerome Orr-Young, Pierce Rollo, Brayden Bowden and Ryan Staniforth have the capacity to drive the standard.
Then, of course, there is club legend Brett Anthony, who has already shown this season that he has retained the capacity to be a match winner.
The GJ Osplumb E3-Grade face a formidable, but not insurmountable, challenge agai9nst top team Melville at Melville Reserve and an upset victory would throw the competition alight.
The Beach sits in ninth position, just a solitary win out of third place, and have done a wonderful job in trying circumstances.
Again in-form players like Peter Panagopolous, Brad Weir, Joel Gray and Mitch Clarke will be expected to lead the way.
Round 12 Fixtures
Hybrid Linings D1-Grade
Wembley v North Beach, Pat Goodridge Reserve, 3pm
Coast to Coast Imports D1-Reserves
Wembley v North Beach, Pat Goodridge Reserve, 1pm
Indi Bar Brett Jones Colts
North Beach v Collegians, Charles Riley Reserve, 12.30pm
Beyond Tools E1-Grade
North Beach v West Coast, Charles Riley Reserve, 2.30pm
GJ Osplumb E3-Grade
Melville v North Beach, Melville Reserve, 3.20pm
#Bye – all other grades