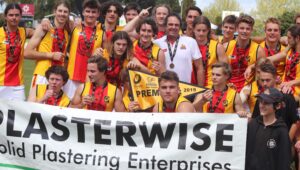 Collectively – and in certain circumstances individually – the day did not start well when the Plasterwise Phil Scott Colts confronted Fremantle CBC at Steel Blue Oval on Saturday.
But a recalibration, a reminder from coach John Burton of the requirements to win big games and the North Beach colts clicked into gear and produced their most complete team performance of the year to claim their second premiership in four seasons.
The personification of the transformation, after a lack lustre start, was Jayden Hunt.
While CBC dominated the first 15 minutes, albeit without maximising their return on the scoreboard, the Beach started to level out the balance of play. In the middle of the opening term, Hunt was summoned from the ground and given some instruction on the role he was expected to play.
North Beach did not score in the opening term, but clawed their way back and then gained the ascendancy in the second quarter – the punctuation mark coming on the stroke of half time when Blake Sawyer slotted a set shot from about 40 metres.
Then, in the third quarter, Hunt was instrumental in the match-winning surge as the Tigers began to hit the scoreboard. Twice in the early stages of the term, Hunt hit the contest hard, gathered a ball at full tilt and set up goals.
They were crucial plays as the Beach powered to a 32-point victory – 9.6 (60) to 3.5 (23), representing an 11-goal swing from the qualifying defeat a few weeks earlier to premiership glory.
Hunt was rewarded for his impact with the medal as best afield, while there was barely a North Beach player who did not make a contribution.
Jack Davidson was feisty up forward while Caiden Eaton was ever threatening, along with Sawyer.
Zac Salleo was instrumental in setting the Beach on their way with his ruck work while Madoc Plane, Jack Stevens, David Purser, Conor Boylan  and Jack McIntosh were combative in the clinches and the defence was simply outstanding.
Jamie Bennett and Callum Corbett provided some quality transition, while skipper Jack Merson, Judd Clinch and Lachlan Thomas were also exceptional.
A 19-point advantage at three quarter time had seen a complete momentum reversal and the Beach capitalised on that platform to romp to an emphatic victory on the back of a four-goal final term.
Plasterwise Phil Scott Colts
Grand Final
North Beach       0.0          2.4          5.4          9.6          60
Fremantle CBC  1.3          1.3          2.3          3.5          23
Goals – North Beach: Sawyer, Davidson, Eaton 2; Merson, McIntosh, Wasley.
Best – North Beach: Hunt, Plane, Stevens, Merson, Davidson, Sawyer, Bennett, Corbett.