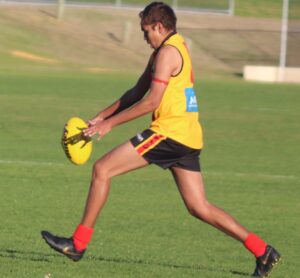 The contrasts could not have been more stark.
On the main stage at Charles Riley Reserve the best that North Beach had available was representing the club against arch rival Scarborough in the O'Rourke A-Grade battle.
A large crowd had assembled to watch the combatants lock horns in what was a game engaging two of the competition's top five teams. It was a display, at least until the middle of the third term, that was ultra competitive and a great advertisement for amateur football.
In the end, though, Scarborough, the reigning premier carried too much class and fire-power for an under-manned North Beach, before winning 14.8 (92) to 4.13 (37).
The lop-sided scoreline did not reflect the nature of the contest but where North Beach missed opportunities, Scarborough nailed them.
On the adjacent northern oval, the Grange Residential I-Grade, the club's all abilities team was hosting Mandurah Mustangs.
For these guys, it's as much about participation as it is the result – although trying telling that to the Beach players who were twirling guernseys above their heads in celebration of their second victory since joining the competition last year.
In this competition the values of sportsmanship, camaraderie, acceptance and understanding could not be more visble.
The Mustangs, another team in its embryonic stages, did not have the numbers to fill every position on the field. So North Beach sent players across, alternating at each quarter break, to even up the numbers.
The Beach players kicked a number of goals for the Mustangs and never questioned their need to help out their opponents. And even after a momentous victory, there was words of perspective. To paraphrase coach Peter Panagopoulos he encouraged his players to enjoy the moment, but not forget their own journey.
Twelve months ago, that was North Beach. Enough players to be a part of the competition, but often requiring help to fill all positions.
So, as a club it was disappointing that the flagship team could not get over the line against a long-standing foe, but it was counter-balanced by the sheer joy of the I-Grade team enjoying a hard-earned moment.