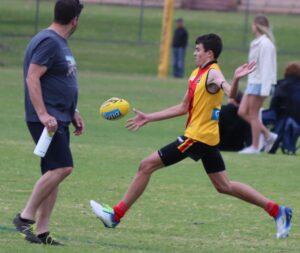 Curtin by name. Unfortunately curtains for the season
The Grange Residential Integrated Rules confronted Curtin University-Wesley in an elimination final at South Oval last Saturday and went down by 23 points.
The team faced its first finals loss in its short history but as coach Pana said post game 'it's all part of the steep learning curve this team has been on for the past three to four years.'
The improvement in the side was evident early in the match with players putting their heads over the ball and linking play with disposals to advantage.
Curtin are a taller more experienced and physically stronger side, comprising largely from former Fremantle CBC players, and while they dominated the first quarter North Beach stuck to the task and the match was relatively even for the remainder of the game.
Kieran Murphy starred at centre half-back against a much taller opponent. His determination to nullify his opponent and take possession of the ball himself, repelled many of Curtin's forward attacks.
Reece McIntyre was dominant in the midfield. His skill and pace allowed him to break clear on several occasions and kicked the Beach's two goals.
Warren Read possibly put in his best display for the year attacking the ball and laid a game high total of five crunching tackles.
Julian Miller continued his ascendancy in this competition. The reluctant half back proved time and time again why Pana wants him to play as a sweeping defender. Revered back line coach Steve Cuzens emphasised in his post-match comments the importance of "Swooper" Miller. He had seven intercept marks and his long kicking got the Beach out of trouble and into attack regularly.
The improvement of all players has been quite exceptional this year. Pana`s post game address was full of praise for his young side, but he reminded the team to remember the sting of their first final loss and to use that as motivation for next season.
While the first beer on the bus trip home was a tad solemn, the optimism for the future was evident when the club song and the team's anthem "County Road" was sung with gusto as we swung into Charles Riley Reserve.
Board man Stewart Curry`s suggestion to change the words from" Country Road take me home" to "North Beach Road take me home" was possibly his most productive move of the season.
I-Grade has had a fantastic year of massive improvement and we want to take this opportunity to thank the committee and members for their amazing support of this team.
We can't wait to go another step forward next year.