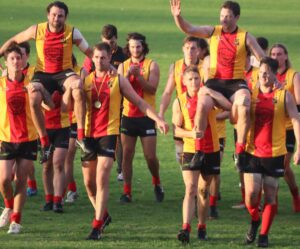 There were so many sub-plots to Saturday's occasion at Charles Riley Reserve, the victory by the O'Rourke Realty A-Grade team was almost transcended by other events. Almost.
After the euphoria of Beau Witheridge's 250th game had settled down, the emotion of Michael Taylor's farewell game, the debut of Ben Johnson and the presence of the I-Grade team in the team circle for the victory song, had been completed, the triumph remained.
And in the context of the season it was an important win.
It pitted third against fourth and under the top five finals system, it's important to finish in the top three and earn a double chance. By eclipsing the Maggies, North Beach consolidated third position and now sit a game and percentage ahead of University on the ladder.
The 15.6 (96) to 11.7 (73) win came with those afore-mentioned important sidelights, but nothing was more significant than the win itself.
After a tight first half, the Beach looked in trouble deep into the second term when North Fremantle had controlled play, with the game locked in their forward half for the majority of time.
But the Beach pushed forward deep into the stanza, an impressive chain of possession ending with a Jordan Webster goal.
On the back of some outstanding work by Kyle Cranley in the ruck, the Beach controlled the game thereafter, and ensured Witheridge's day ended as it deserved.
The milestone man was a significant contributor through the midfield, along with Nick Bowe and Dan Ryan, while Andrew McGuinness, Dan Leishman and Sam Lamont also wielded some influence.
Ryan Ekert imposed himself up forward before suffering a knee injury while Max Hurley, Webster and Johnson worked hard. And Taylor had a dream finish in his final game, kicking a goal with his last possession in senior football.
It was an occasion to cherish, a day of mixed emotions for sure, but a great day for the football club.
Earlier, the Lifenet A-Reserves completed the first full round of fixtures with an unblemished record, sitting at 9-0 at the half-way point with a solid 44-point victory.
For the second successive week, the Beach were challenge and responded. North Fremantle were well organised, were prepared to take the game on through the corridor and it made for an absorbing first half.
But after the main break, encouraged by coach Scott Holbrook to embrace the challenge, the Beach rallied and dominated the second half.
Led by Arran Goddard-Nash and a few other experienced players – like ruckman Tom DeCourtenay and veteran Michael Schofield, Ben Sweeny and Peter Hoitis – the Beach responded and played some pristine football.
In addition, young guns Oskar Tothill, Jordan Brooks and Nathan Torre, hit the scoreboard hard to ensure victory was achieved while emerging defenders Matt Murray and Cam Hoskins were also influential.
The Plasterwise Phil Scott Colts put on a wonderful display of their capabilities with a polished performance that ended in a 70-point win – 14.9 (93) to 3.5 (23).
The Beach were clean and efficient, particularly when the heart was on early and Jack Davidson, across half-forward, set the standard in that respect.
Key forwards CaIden Eaton and Ben Wasley provided strong targets in attack, while Travis Burton's trade-mark pressure at ground level was a factor.
Through the midfield, Luke Hopkins and Chris Wells were exceptional while Jamie Bennett and Dave Purser were also influential. When called upon the defensive unit, led by Judd Clinch, Maddoc Plane and Jack Merson responded as required.
O'Rourke Realty A-Grade
North Beach       5.3          7.5          10.6        15.6        96
North Frem         3.3          6.4          6.7         11.7        73
Goals – North Beach: Webster, Johnson, McGuinness, Ekert 2; Leishman, Campbell, Cranley, Cownie, Hurley, Dwyer, Taylor.
Best – North Beach: Cranley, Leishman, Witheridge, Bowe, McGuinness, Ekert, Ryan.
Lifenet A-Reserves
North Beach       2,3          4.7          7.8          10.10     70
North Frem         1.1          3.2          3.2            4.2        26
Goals – North Beach: Tothill, Brooks 3; Torre 2; Schofield, Harvey.
Best – North Beach: Goddard-Nash, Torre, Tothill, Hoskins, Murray, Brooks, DeCourtenay.
Plasterwise Phil Scott Colts
North Beach       3.2          8.3          10.6        14.9        93
North Frem         1.1          2.1            3.2          3.5        23
Goals – North Beach: Eaton 4; Wells, Seidner, Davidson 2; Sargant, Wasley, Purser, Burton.
Best – North Beach: Hopkins, Eaton, Wells, Purser, Boylan, Davidson, Wasley, Burton.