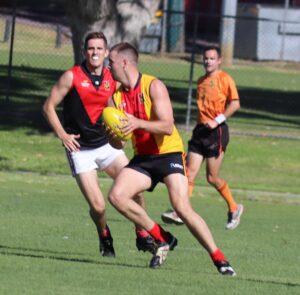 Bill Grayden Reserve is a unique, saucer of a ground, sitting in a picturesque Como setting.
The home of Perth Football League A-Grade club Trinity Aquinas, it requires a specific plan and patience, particularly for key forwards.
The change rooms are similarly quaint, even tight. Fitting 22 players, coaches and support staff in the room can be a challenge.
Fortunately, on Saturday, in the opening round of the 2019 season when the players prepared to belt out the first rendition of the club song for the year, there was more room than usual in outer circle.Inside the ring, being doused with the usual flood of Gatorade, were four club debutants. Midfielder Mitch Gill, defender Travis Gray and forwards Max Hurley and Michael Battaglia all played in the red and yellow for the first time and had an impact.
In a new-look O'Rourke Realty North Beach line-up, that finished third in the 2018 season, they eclipsed Trinity Aquinas by 33 points, winning 13.7 (85) to 7.10 (52). With youngsters like Joe Deegan and Ned Halley earning an opportunity it was a great way to frank the club's solid pre-season.In addition, veteran Dan Leishman, West Coast Eagles WAFL squad member Sam Lamont, key defender Tom Hooper, ruckman Travis Cranley and defender Matt Irvine were also in good touch.
After a tight first half, the Beach controlled play, kicking eight goals to three and playing a system that was difficult for the Boomers to counter.
Earlier, the Lifenet A-Reserves, started their campaign for a third successive premiership in fine style, eclipsing Trinity Aquinas by 65 points in a classy display against the team they conquered in last year's grand final.
Again the North Beach team boasted a plethora of young talent, Jordan Brooks proving lively up forward and kicking four goals while Sean Foley, Oscar Sheard, Matt Holden and Ben Sweeny were also important.
The Beach led from start to finish in an authoritative display that further underlined the depth of talent within the club's ranks.That assembly line of talent was amplified when the Plasterwise Phil Scott Colts scored a solid 35-point victory to start the day.
Again, after a tight first half, the Beach had the answers, led by Lachlan Thomas, Jack Merson and Luke Hopkins.
Details
O'Rourke Realty A-Grade
North Beach       1.1          5.3          11.5        13.7        85
Trinity Aquinas  2.3          4.3            6.5        7.10       52
Goals – North Beach: Leishman 3; Webster, Witheridge 2; Lamont, Cownie, Gill, Hurley, Battaglia, Dwyer.
Best – North Beach: Cranley, Hooper, Lamont, Leishman, Gill, Deegan, Battaglia, Irvine.
Lifenet A-Reserves
North Beach       4.0          8.2          10.6        14.9        93
Trinity Aquinas    2.0          2.3          4.2           4.4        28
Goals – North Beach: Brooks 4; Tothill, Foley 2; Stott, Harvey, Raynor, Johnson, Baroni, M Cameron.
Best – North Beach: Brooks, Foley, Sheard, Hoskins, Holden, Sweeny, M Cameron.
Plasterwise Phil Scott Colts
North Beach       3.0          5.0          7.3          11.5        71
Trinity Aquinas    3.5          3.5          4.6            5.6        36
Goals – North Beach: Sawyer, Eaton 3; Wasley 2; Hopkins, Purser, Wells.
Best – North Beach: Sawyer, Hopkins, Thomas, Merson.