Sponsor of the Week – Lifenet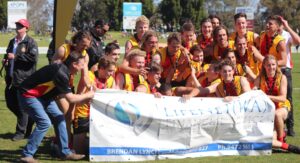 Loyalty pervades every crevice, every corner, every millimetre of the North Beach Football Club.
It's something that happens organically. It's impossible to replicate.
Other clubs might try, but you can't manufacture the intangibles that prevail at Charles Riley Reserve. Once it's in your blood it's there forever.
There are examples of it everywhere on a Saturday afternoon and is never evident than on grand final day. The sea of North Beach fans swamping the huddles at Steel Blue Oval in recent years has been clearly larger than any opponent it has met.
And without exception, one of the men in club colours urging the North Beach players to victory has been Brendan 'Doogie' Lynch, decked out in his club bomber jacket.
In the last three years he has been intrinsically involved with the A-Reserves team that under the direction of Scott Holbrook has won a hat-trick of premiership. Lynch, through his business, Lifenet, has generously sponsored the team.
A former player who has continued to contribute well beyond his playing days, Lynch is a life member (2009), played 260 games and was a part of four premiership teams. Red and gold blood runs through his veins and that success has transferred to his business life through Lifenet.
Since 1995 LifeNet(WA) has helped over 5,000 Western Australians build and protect their wealth. As a full financial planning practice they offer a wide range of services and are committed to providing clients with the advice they need to achieve their financial goals today, tomorrow and beyond.
In the words of the inimitable Molly Moldrum, if you are looking for a little direction on wealth creation, the benefits of income protection, so important for players at community level, tax planning, wills and whole range of other services, do yourself a favour and  give Brendan Lynch a call on 9472 5611