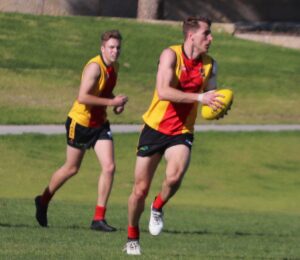 The preliminaries are done and now it gets down to business. This is when the season really starts.
After 18 rounds of intense competition, the O'Rourke Realty A-Grade finished in fourth position and will now host an elimination final against North Fremantle at Charles Riley Reserve.
The Beach completed their lead-in to the finals with a couple of strong performances, starting with a seven-goal win against the Maggies in round 17 and then completing the formalities of locking in a home final with a comprehensive victory against Wanneroo last Saturday.
The Beach is in a strong position to challenge, but can expect a strong response from North Fremantle who were not happy with their performance a fortnight ago and know they can play far better than that display.
Coach Shane Paap will again look for his senior players to lead the charge, establish the pattern early and help propel the club past the first hurdle in its quests for another premiership,
Players like Blake Piggott, Mitch Gill and Dan Leishman have been midfield standard bearers throughout the campaign and they will be required to impact, along with Kyle Cranley, Andrew McGuinness and Sam Lamont.
While the A-Grade team kicks off its campaign, the Lifenet A-Reserves have earned a week one finals bye after finishing the season at the top of the table.
The Plastwerwise Phil  Scott Colts will be looking to rebound when they play a qualifying final against Fremantle CBC at McGillivray Oval.
The Beach dropped last week's game against Wanneroo – who had to win to propel themselves into the finals series – but will get a few players back for this clash, with the incentive of earning a shot at University.
Defender Judd Clinch, midfielder Conor Boylan and utility player Madoc Plane will be important if the Beach is to advance to the second semi-final.
The lower grades began their finals quests with impressive performances last week and the Hybrid Linings D1-Grade will play the first semi-final against North Fremantle at Charles Riley Reserve (2) tomorrow.
It looms as a tight contest and the Beach will need to be at their best to advance.
The Coast to Coast Imports D1-Reserves have earned a shot at the vastly experienced Curtin Wesley outfit the boasts many former A-Grade premiership players.
The GJ Osplumb E3-Grade will play Piara Waters in another sudden death final at Carlisle Reserve.
Fixtures
O'Rourke Realty A-Grade
Elimination Final
North Beach v North Fremantle, Charles Riley Reserve, 2.30pm
Lifenet A-Reserves
North Beach – Bye
Plasterwise Phil Scott Colts
Second semi-final
North Beach v Fremantle CBC, McGillivray Oval, 10.40am
Hybrid Linings D1-Grade
First semi-final
North Beach v North Fremantle, Charles Riley Reserve (2), 2.30pm
Coast to Coast Imports D1-Reserves
Second semi-final
North Beach v Curtin-Wesley, Morris Buzzacott Reserve, 12.35pm
GJ Osplumb E3-Grade
Elimination final
North Beach v Piara Waters, Carlisle Reserve, 12.35pm