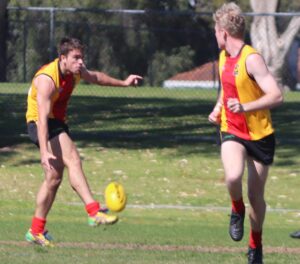 The football vernacular has long espoused that no game has ever been won on paper; that teams look 'unbeatable" at selection don't always deliver on match day.
The magnets on the white board of Hybrid Linings C5-Grade coach Glen Hinkley looked as good as some senior teams at other clubs and the undefeated Beach outfit was fixtured to play one of the competition stragglers.
Visions of a mighty victory flooded the minds of all, bringing into play another of great game's clichés – 'it's played between ears.'
So, this powerful, highly talented group struggled to gel. Cohesion and connectivity was as disjointed as an NBN internet service in Hillarys. So much so that at three-quarter time the hitherto unbeaten North Beach outfit was a goal in an arrears against win-less Wanneroo.
The Beach had enough talent to recover and eventually win by 15 points – 7.13 (55) to 6.4 (40) – but the manner of the victory was far removed from the slick, dominant performance envisaged in the game's lead-up.
The backline, led by Shane Duckworth, Luke Hopkins and Matt Seaton was outstanding, held up under pressure and was pivotal in the victory.
Craig Hall again led from the front while Matt Irvine and Matt Holden, who have had interrupted seasons, were thrown on the ball in the last quarter and were catalysts for the surge that secured the win.
While the C5-Grade had to dig its way out of a hole, the Beast Carpet Cleaning C5-Reserves lived out their pre-game version of what should happen when they were ruthless 161-point winners – 27.19 (181) to 3.2 (20).
They fielded the fourth grade version of the dream team, 10 regulars of the threes and fours in recent years, falling back a grade or two.
It made for an intimidating combination and they lived up to the hype, kicking 15 goals to half-time against the Roos.
The youngster excelled, forward Brayden Quinn kicking seven goals, while midfielder Conor Hingston kicked five and both Liam Hunter and Mitch Tobin having strong games.
Experienced 'talls' Ryan Clapham and Adam Miotti gave the Beach first use through their ruck work and those at ground level capitalised to the maximum.
The knock-on effect was that the Beyond Tools E2-Grade was also a vastly different team to the one that had represented the club a week earlier, with a whopping 14 changes.
The influx of experienced players made a big difference, with winners all over the ground as the Beach carved out a 114-point victory – 20.5 (125) to 5.5 (35).
Fletcher Cooke was strong through the midfield, while Nathan Raynor, Lucas Osborne, Brendan Collins and Luke Kuppens were all influential.
The GJ Osplumb E3-Grade had a tough day against Ballajura, losing by 89 points.
Details
Hybrid Linings C5-Grade
North Beach       0.5          2.8          3.10        7.13        55
Wanneroo          1.2          2.3          5.4          6.4          40
Goals – North Beach: Brooks 2; Rollo, Hall, Zehnder, Della-Vedova, Seidner.
Best – North Beach: Hall, S Duckworth, Irvine, Seaton, Hopkins, Holden.
Beast Carpet Cleaning C5-Reserves
North Beach       7.6          15.9        21.12     27.19     181
Wanneroo          1.0          1.0            3.1        3.2           20
Goals – North Beach: Quinn 7; Hingston 5; J Cameron 3; Tobin, Samuels, Goodin, Cahill, McAuliffe 2; Pollard, Quinlan.
Best – North Beach: Quinn, Tobin, Hingston, Clapham, Miotti, Hunter.
Indian Ocean Hotel Brett Jones Colts
North Beach 16.14 (110) def Wanneroo 1.3 (9)
Goals – North Beach: N/A
Best – North Beach: Cameron, Craig, Huggins.
Beyond Tools E2-Grade
North Beach 20.5 (125) def Melville 1.5 (11)
Goals – North Beach: Collins, Kuppens, Persichitti 4; Osborne 3; Collins, T Maxfield, W Maxfield, Wilson, Raynor, Staniforth.
Best – North Beach: Cooke, Raynor, Osborne, Collins, Kuppens.
GJ Osplumb E3-Grade
Ballajura               6.4          8.5          12.7        17.9        111
North Beach       0.1          0.2          2.2          3.4           22
Goals – North Beach: N/A
Best – North Beach: N/A