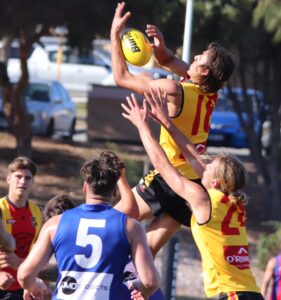 It started as it should have, inspirational captain Mitch Dwyer celebrating his 150th game and kicking the first goal of the game.
It ended with another popular veteran, Dan Leishman, taking four bounces through the middle of Charles Riley Reserve, and then converting one of the great goals of the season.
Between those stellar moments this game was punctuated by highlights as the O'Rourke Realty A-Grade team produced a sublime performance against Kingsley on the way to an 88-point dissection – 17.18 (120) to 4.8 (32).
Leishman and Dwyer were in the thick of it all day as the Beach controlled play throughout and, as one would expect in a demolition of this magnitude, there was not a player who failed to contribute.
From rookie Austin Sheard, in his debut senior game, to Dwyer, Beau Witheridge, Dion Cownie and Travis Gray through to ruckman Kyle Cranley, forwards Max Hurley and Ryan Ekert, the Beach held sway across the ground.
Sheard had the important role of minding dangerous forward James Del Borrello and established the early tone with some telling one-on-one victories.
Leading by 28 points at the first change, the Beach built on the advantage throughout the day and saw off the challenge of the Cats who sat just one position below them on the ladder.
A dominant midfield and a forward line that was ever-threatening were catalysts for the triumph, but the backline was also stingy and rock solid. Aside from Sheard the more experienced defenders like Matt Irvine, Michael Taylor and Luke Symonds were suffocating and Ned Halley was also strong in the contest.
The Lifenet A-Reserves continued an extraordinary run of dominance that has seen their percentage hit the 1000 mark, the latest victims being Kingsley who were on the receiving end of a 147-point drubbing.
Kingsley became the second team in the last three weeks who failed to score, while the Beach rattled on 21.21 (147). In that three-week block the Tigers have scored 67 goals, while conceding just two – against Scarborough a fortnight ago.
When dominating to the extent that they have, it would be tempting for individuals to waver from the game plan, to get a little selfish, but there has been no evidence of it.
On Saturday, they controlled the game from the start and again had winners in every position.
The standard was set early with some brilliant ball use out of defence from Brennen Irvine setting the Beach on their way and that continued throughout.
Dan Ryan maintained his exemplary form through the midfield while Jayden Black made the most of his opportunity and Adam Swain produced arguably his best performance of the season.
Ruckman Tom DeCourtenay gave the 100 percent effort that is his trademark and up forward the Beach had reliable targets in Nathan Adler (four goals), Jordan Brooks, who was electrifying early, Nic Baroni and Caolan O'Connell.
Defenders Irvine, Ben Sweeny, Matt Murray, Cam Hoskins, Jarrod Chapman and Matt Murray did all that was required of them and did it with authority and purpose.
The Plasterwise Phil Scott Colts christened the new lights at Beach headquarters on Friday night with a gritty six-point win over Kingsley.
In an entertaining encounter, in front of a large and enthusiastic crowd, the Beach endured 6.9 (45) to 5.9 (39) after David Purser kicked a deadlock-breaker with two minutes to play in the final term.
Kingsley, who went into the contest winless, produced a spirited performance and threatened to upset the hosts until the Beach found a way to break through.
The game-changing move, after Kingsley had controlled the game in the second and third quarters, came when Judd Clinch was thrust into the ruck. He won a number of contests at stoppages but also had a decisive impact around the ground.
Travis Burton put his head over the ball at crucial times – not without consequence in the second term when he came off the ground with a towel to a nose that dripping claret.
Jackson Martino was solid across half-back, Purser's two goals at either of the game were crucial in a low-scoring arm wrestle, while Callum Corbett and Stratton Sargant were also influential.
The game created a pulsating climax, but could easily have been locked away in the first term when the Beach squandered a number of gilt-edged opportunities in front of goal. They kicked six points before Purser converted on the run deep into the first term.
Ben Wasley provided a strong target up forward, but failed to reap the deserved return on the scoreboard after taking some outstanding grabs.
Results, Round 5
O'Rourke Realty A-Grade
North Beach       4.5          8.11        14.15     17.18     120
Kingsley               0.1          2.2            3.3          4.8          32
Goals – North Beach: Ekert, Hurley 3; Leishman, Cameron, Dwyer 2; McGuinness, Tothill, Deegan, Witheridge, Webster.
Best – North Beach: Gill, Cownie, Sheard, Hurley, Leishman, Gray, Witheridge, Dwyer.
Lifenet A-Reserves
North Beach       4.4          10.8        16.14     21.21     147
Kingsley               0.0          0.0           0.0          0.0            0
Goals – North Beach: Adler 4; Baroni, Brooks, O'Connell 3; Foley, Torre 2; Edwards, Hoskins, Ryan, B Irvine.
Best – North Beach: Ryan, Sweeny, B Irvine, Murray, Brooks, Black.
Plasterwise Phil Scott Colts
North Beach       1.6          2.7          4.8          6.9          45
Kingsley               0.2          3.5          5.6          5.9          39
Goals – North Beach: Purser 2; Wells, Thomas, Plane, Cahill.
Best – North Beach: Clinch, Burton, Martino, Sargant, Corbett.