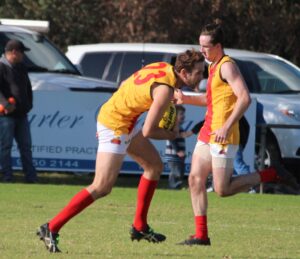 The scene was a local oval in the south-eastern suburbs.  It would have been worthy of the MCG.
Ferndale Park, sits between Albany and Leach highways. Most of us in the northern suburbs don't go that far on holidays.
The Beyond Tools E2-Grade were grade playing a qualifying final against Lynwood-Ferndale.
After four compelling quarters of football the teams could not be separated. Extra time, 15 minutes each way, did nothing to break the deadlock. A check on the rules and they went back out again. Two extra periods.
With 30 seconds remaining, the opposition led by a behind. The Beach won a clearance, scrambled it forward and Tim Langsford won a free kick about 40 metres from goal. As he sizes up the task the siren sounds.
A veteran, so long a part of the senior squad during the club's successful era, he was more known as a talented defender, but has played at both ends of the ground. The nerves would have been tingling.
He went back and calmly, well externally at least, completed the task. His heart no doubt racing, he sent his team into this week's second semi-final.
Swamped by teammates this one of the great moments in club history. Langsford will never forget it and neither will anyone else at the ground.
The club had two teams playing finals on the day and the Indian Ocean Hotel Brett Jones Colts started the day positively, with a decisive victory over the club it defeated in last year's grand final, Collegians.
After withstanding an early onslaught from Collegians, including a solid hit on half-back Conail McCarthy, the Beach colts steadied and kicked five goals in the second quarter.
The young Tigers also lost star midfielder Louis Marlam to concussion, but the Beach remained resolute and disciplined and were convincing 12.6 (78) to 3.7 (25) victory to advance to the first semi-final.
Beyond Tools E2-Grade
Qualifying final
North Beach 6.5 (41) def Lynwood-Ferndale 5.6 (36)
Goals – North Beach: Kuppens 2; Tobin, Persichitti, Cahill, Langsford.
Best – North Beach: Gardiner, Wallis, Cooke, Wilson, Temm, Dunjey.
Indian Ocean Hotel Brett Jones Colts
Elimination Final
North Beach      0.2         5.3         7.3         12.6       78
Collegians          1.2         2.5         3.5         3.7         25
Goals – North Beach: Mortimer, Hunce, Irvine 2; Ranson, McLeod, Butkjo, Cortese, McCaffrey-Nicholls.
Best – North Beach: McLeod, Tindall, Naylor, Moreschini, Nicholls.