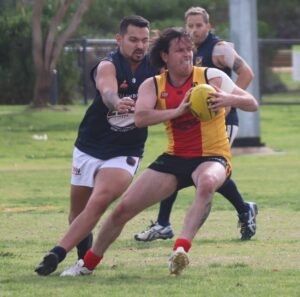 The deep talent pool that runs through North Beach will be on show at Charles Riley Reserve tomorrow with three teams starting their finals' campaign.
It should be an enthralling afternoon, with the Hybrid Linings D1-Grade and the Coast to Coast Imports D1-Reserves both playing University on the main oval, while the GJ Osplumb E3-Grade will tackle SNESA on Chas (2).
The third and fourth grade teams have been in and around the top three all season and have earned a double chance, while the sixth grade has been a remarkable story throughout the year.
University and North Beach have a strong history in the third and fourth grade and they promise to be engrossing battles.
The Hybrid Linings D1-Grade team boasts a nice blend of seniority and youthful exuberance, with a number of the developing players given a taste of reserves football this season.
The seniority sits with the likes of Michael Duckworth, who last week played his 200th game for the club, his brother Shane, midfield hard nuts Dean Wilson and Matt Power, along with Ben De Rosa, Michael Collins and Liam Pardini.
That collection of hardened experienced campaigners, many of whom play in the back half, should offer strong guidance to an exciting young group that includes Jacob Desmond, Rhiordan Hughes, Alex Coleman, Lucas Gardiner and Nick Marsh.
The Coast to Coast Imports D1-Reserves boast a similar blend, the seniority available through the likes of Rob McComiskie, Curtis Hogg, Mark Henderson, Ryan Clapham and Khalil Campbell while Hayden Pow, Jordan Mesiti and Sam Cahill represent the next generation.
University proved the masters of the Beach in both grades last week, so coaches Glen Hinkley and Chris Humphry will be looking for a lift across the board so they can progress through to the second semi-final.
The GJ Osplumb E3-Grade have risen from the ashes this season, with coach Will Hooper, in his first year at the helm, convincing a number of former teammates to return to football.
Iconic veteran Peter Panagopoulos is the elder statesman around a bunch of young men who be keen to emulate his contribution to the cub. The pacy Mitch Clarke, athletic Paul Clark, toughnb ian-and-under midfielder Jake Marchin-Vincent, talented youngsters Josh Cuzens and Cam Howie will all be looking to influence this outcome.
The lifted themselves up the ladder with some outstanding efforts in the back half of the season, finishing third in a top six system and play Snesa in a cut-throat final.