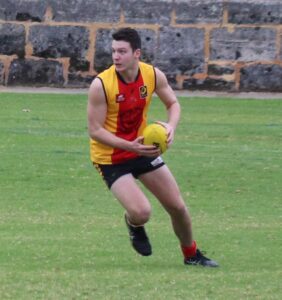 Travelling to Bassendean to confront the undefeated ladder leader might have appeared to be a daunting contract, but the Beyond Tools E2-Grade handled the assignment with aplomb.
In what could be a season defining performance, the Beach emerged with a clutch 20-point victory, 12.6 (78) to 8.10 (58).
As a result of the victory, the Beach now sits in third position on the ladder, a game behind Bassendean and Lynwood Ferndale and two games clear of fourth placed Bullcreek Leeming.
Against the undefeated reigning champions, the Beach were in early trouble, but steadied and took the game to the opposition, before securing the ascendancy in the second term.
In the last quarter, through the likes of Luke Kuppens, who kicked five goals, hard-nosed midfielders Dean Wilson, Fletcher Cooke and Callan Dunjey, the Beach held up to the task. Michel Duckworth and Lucas Osborne were also important contributors in a great victory.
Meanwhile, at McGillivray Oval, the Hybrid Linings C5-Grade and the Beast Carpet Cleaning C5-Reserves faced the prospect on University on their home turf. The Scholars have long been the benchmark of these grades, so it was going to take some resolve to maintain their unbeaten status.
There proved to be little concern as both teams produced authoritative victories.
University have dominated the threes competition, winning three flags in four years, and the Beach had to weather a strong start from the hosts.
The Scholars, as expected, showed genuine intent at the stoppages and managed some clean entries in to the forward line, but the Beach held strong and could have had a handy lead at the first break.
It proved to be something of a pattern, squandered opportunities up front for the Tigers keeping University in the game.
After halftime, the domination across the field by the Beach continued but this time the scoreboard reflected it and the last two quarters saw them kick 9.5 to 2.1, resulting in a 55-point victory – 11.15 (81) to 4.2 (26).
None were better in the forward line than Jordan Brooks who completely outplayed a bigger opponent to finish with five majors, however, he was slightly overshadowed by the return of Nathan Dwyer in his first game for two years who took some big marks and finished with two goals.
Alex Coleman played arguably his best game at this level, with a commanding performance in the ruck which included some towering intercept marks. At his feet, Alex Thompson continued his wonderful form with a huge pile of possessions and he had terrific support from fellow midfielders Matt Irvine and Matt Seaton.
Down back, Ben Litchfield played his best game for the club as he constantly repelled University forays, capping off his game with his first goal for the Beach.
The Beast Carpet Cleaning C5-Reserves were also too polished for University, making the most of their opportunities on the way to winning 15.5 (95) to 4.6 (30).
Ryan Clapham was again outstanding in the ruck and his work ensured plenty of supply for an insatiable midfield, led by Joel Brown and Jayden Hunt.
Josh Cameron was a reliable target up forward, kicking four goals, while Dave Purser and Reef Samuels also made significant contributions.
The euphoria of a momentous victory for the GJ Osplumb E3-Grade a week earlier carried forward – at least initially against a powerful Kalamunda outfit – but in the end the Cougars carried too many guns.
Despite solid contributions from Brandon Ingleby, Aaron Ugle and Michael Humphry Kalamunda galloped away to win 18.14 (122) to 3.3 (21).
The Grange Residential Integrated Rules outfit played an entertaining match against Mandurah Mustangs, falling short 5.13 (43) to 4.1 (25).
Details
Hybrid Linings C5-Grade
North Beach      1.6         2.10       6.12       11.15    81
University           1.1         2.1         2.1           4.2       26
Goals – North Beach: Brooks 5; M Cameron, N Dwyer 2; Litchfield, Thompson.
Best – North Beach: Coleman, Thompson, Brooks, Litchfield, Seaton, Irvine.
Beast Carpet Cleaning C5-Reserves
North Beach      3.1         7.3         12.4       15.5       95
University           0.3         2.3           3.3         4.6       30
Goals – North Beach: J Cameron 4; Purser, J Cuzens, Dolling 2; Wickstein, Lang, Tobin, Baroni, B Collins.
Best – North Beach: Clapham, Brown, Hunt, Purser, J Cameron, Samuels.
Beyond Tools E2-Grade
North Beach 12.6 (78) def Bassendean 8.10 (58)
Goals – North Beach: Kuppens 5; Osborne, Steffensen 2; Franklin, Persichitti, Dunjey.
Best – North Beach: Kuppens, Wilson, Cooke, Osborne, M Duckworth, Dunjey.
GJ Osplumb E3-Grade
Kalamunda 18.14 (122) def North Beach 3.3 (21)
Best – North Beach: Ingleby, Ugle, Humphry, Krammer, Staniforth, Kouroulis.
Grange Residential Integrated Rules
Mandurah          0.1         3.1         4.6         5.13       43
North Beach      2.1         3.3         4.1         4.1         25