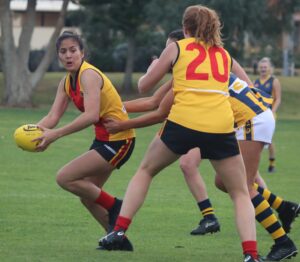 For two of North Beach's highest profile teams, the curtain will be drawn on the qualifying rounds tomorrow.
The Galleria Toyota A-Grade women will play their last home and away game at Charles Riley (2) against Kingsley, while the Grange Residential Integrated Rules team will play Willetton at Burrendah Reserve.
The women bounced back from a few tough weeks with a gripping three-point win over West Coast last week and will be looking to build confidence and momentum against the Cats.
They play West Coast again in next week's first semi-final, so this should be an ideal hit-out in preparation for their second tilt at finals football in the second season of the competition.
They will look to rebounding defender Taylisha Brown, Ellen Duncan and Emile Sainty to lead the defensive effort, as they have done all season, while midfielders like Sally Ford, Tessa Anderson and Stephanie Ball should provide the transition from defence to attack.
There are a number of goal-kicking threats up forward for the Beach, led by Sarah Cosoleto and Lexi Lindsay,
The Integrated Rules team has traveled a wonderful journey this season, winning their first game in the middle of the season and then backing it up with two more as the season evolved.
They will journey to Willetton by bus and no doubt will add to a vibrant atmosphere when they get back to club headquarters.
The evolution of the team across the board has been exciting, but the selection of Chris Willers in the State team was a highlight.
Jake Parotte, Julian Miller, Mailey Kelly and Liam Williams also enjoyed outstanding seasons, as did, mainstays like Ben Pieters, Will Donner, Toby Anscombe and Kieran Murphy.