The AFL season has kicked off and the flow on effect is hitting community football. Footy fever is taking hold.
North Beach are back at Charles Riley Reserve, trial games are starting and new senior coach Ryan Mackenzie is excited.
So are the players, especially the senior group with Mitch Gill being appointed as captain, with Ned Halley as his deputy. Gill replaces the inspirational Mitch Dwyer whose last act in battle for the club was his fearless attack on the ball, running with the flight in last year's preliminary final.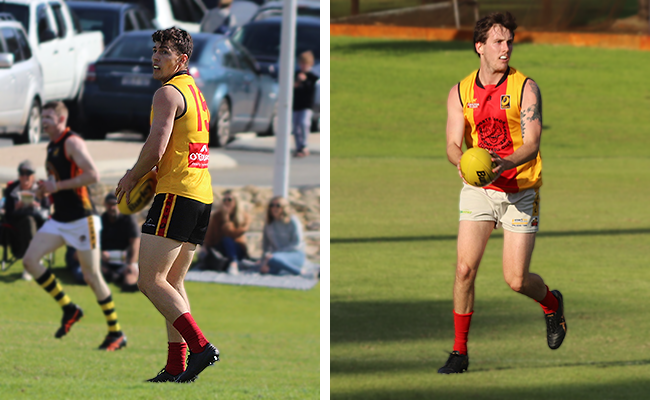 Mitch Gill (pictured left) and Ned Halley (pictured right)
The baton was passed from Dwyer to Gill while another of North Beach's great skippers Chris Pearce, a lynchpin in the glory years a decade ago under Bill Duckworth, announced Halley and other members of the leadership group.
Brayden Lawler, who has arrived at the club after 120 games with Peel Thunder, James Garcia, Sam Lamont, Luke Symonds and Dylan Campbell round out the leadership group.
"The players have done an amazing amount of work over summer," said Mackenzie.
"Starting a three-week block pre-Christmas that combined the strength and conditioning preparation from Athletica with the men's, women's and colts groups building a strong platform."
"As we start to head in practice matches, all players get the opportunity to put in practice the things they have been working to improve."
"The leadership group with the seniors is working in small groups and have already undertaken workshops to enhance their skills set, embracing the opportunity."
While Mackenzie has hit the ground running, other coaching appointments have been made with Mark Kerns assuming the role with the reserves while Mark Foreman returns to the club as fifth grade coach.
As previously announced Simon Quayle assumes the mantle of women's coach while Glen Hinkley (thirds), Jack Flynn (fourths), Will Hooper (sixes) and Peter Panagopoulos (integrated) remain in their roles while John Burton and Darcy Sparks will again pilot the colts program.
By Gary Stocks