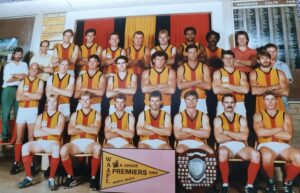 Your first crush, your first kiss, your first love…and your first premiership.
No matter what happens along the journey of life, there is nothing quite like the unique experience created the first time around and for the North Beach Football Club there will never be anything quite like the first A-Grade premiership.
That came in 1989, a season as tight as any in the storied history of the WA Amateur Football League and one the culminated in a grand final triumph over one of the competition powerhouses of the time, Mt Lawley.
The Beach made a positive start and were never headed.
As we take a nostalgic look back at the magnificent, ground-breaking day, successful coach Cory Bewick gave an insight into the mindset that has permeated through the club ever since. It was great to win, but if we were looking for a run of sustained success, the Beach would need to raise the bar higher!
Following is the report from the senior coach that was published in the 1989 annual report.