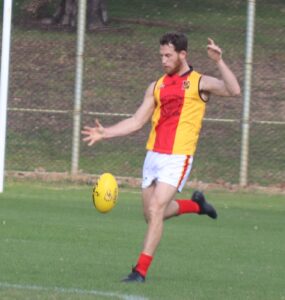 Little ripples in the waters of a season can expand, accelerate and build, develop into a gentle swell and then evolve into a formidable wave.
When the North Beach Football Club reflects on the 2019 season the start of the O'Rourke Realty A-Grade's success may well be traced back to the ripple that emerged against Kingsway at Kingsway Reserve last Saturday.
Perhaps fortunate to escape with a one-point victory against the Rockets, defeat would have placed in serious peril the objective of earning a top three finish and thus a double chance in the finals series.
But the class of the quality players within the Beach outfit, steered the team away from dangerous waters and secured a crucial 12.8 (80) to 12.7 (79).
It was built around the energy of Dan Leishman, the exquisite skill of Mitch Gill, who set up some wonderful transitions with his creative handball, and the quality of the forward craft provided by Andrew McGuinness and Dan Ryan.
In addition, skipper Mitch Dwyer was in everything as he led from the front and both Matt Irvine and Blake Piggott ensured some quality ball movement emanated from the back half.
It was a tight contest all day and in matches of this nature one team would be considered lucky and the other desperately unfortunate. In this instance, the Beach did enough right to ensure they finished on the positive side of the leger.
The Lifenet A-Reserves always had Kingsway covered and expected as much going into the match.
With the Rockets needing to call on colts players to bolster their ranks, the ball was locked in the Beach's forward half for much of the game and while it was not their best performance of the season, they manufactured a comfortable 69-point win.
Motivation was a challenge going into the clash and the Beach got going in fits and starts, but carried far too much capacity for their rivals.
Oskar Tothill was lively up forward with three goals, Peter Hiotis was prominent through the midfield with Nick Bowe and Adam Swain, while Luke Hopkins and Ben Sweeny organised a defence that had the answers when Kingsway ventured forward.
The Plasterwise Phil Scott Colts chalked up an important victory, again setting the tone  early, putting the Rockets out of the game by quarter time and then coasting to victory – 16.10 (106) to 5.1 (31).
The tally of scoring shots reflected the chasm between the teams, with the Beach never under threat.
They had winners all over the ground in a dominant team performance, Caiden Eaton continuing his hot run of form with an eight-goal bag.
In conjunction with half-forward Jack Davidson, who kicked four goals, they made the most of quality supply by hitting the scoreboard hard.
They capitalised on the work of Judd Clinch in the ruck, Blake Sawyer on a wing and Conor Boylan through the middle.
The Indi Bar Brett Jones Colts struggled to get into top gear against Curtin-Wesley and as a result fell to a 20-point defeat.
The Beach trailed from start to finish against a reinvigorated opponent and had it not been for the effort of Flynn Blackburn and Josh Artaud, who finished with three goals, the loss would have been greater.
Wesley Curtin were desperate to keep their finals hopes alive and it was clear from the first quarter that it was going to be a tough game won by the hungriest team.
Flynn Blackburn competed strongly in his first game in the ruck and the Beach were bolstered by the return of reliable forward Josh Artaud from a hamstring injury. Wesley Curtin were much harder, for much longer and outworked our boys for most of the day to go into three quarter time with a strong lead.
Benjamin Hodge was tireless again, seemingly playing all over the ground. North Beach wrestled back control of the game in the fourth with Canadian import Tommy Charron stepping up to kick a brilliant running goal from 40 out to give our boys a sniff, but in the end it was too little too late.
Results, August 3
O'Rourke Realty A-Grade
North Beach      2.3         5.3         9.5         12.8       80
Kingsway            4.2         6.3         9.5         12.7       79
Goals – North Beach: Ryan, McGuinness 3; M Dwyer 2; Webster, M Irvine, Leishman, Deegan.
Best – North Beach: Leishman, McGuinness, Ryan, M Irvine, Piggott, M Dwyer.
Lifenet A-Reserves
North Beach      3.5         6.8         9.11       12.14    86
Kingsway            0.0         0.3         1.3           2.3       17
Goals – North Beach: Tothill 3; Brooks, M Cameron, Schofield 2; C O'Connell, Swain, Torre.
Best – North Beach: Tothill, Hiotis, Bowe, Swain, Hopkins, Sweeny.
Plasterwise Phil Scott Colts
North Beach      5.2         8.6         12.8       16.10    106
Kingsway            1.0         3.0           4.0         5.1         31
Goals – North Beach: Eaton 8; Davidson 4; Swayer 2; Rose, Wasley.
Best – North Beach: Clinch, Eaton, Davidson, Sawyer, Merson, Stevens, Boylan.
Indi Bar Brett Jones Colts
Curtin Wesley    2.1         5.2         7.4         8.5         53
North Beach      1.0         2.2         3.2         5.3         33
Goals – North Beach: Artaud 3; Thompson, Charron, Bateup.
Best – North Beach: