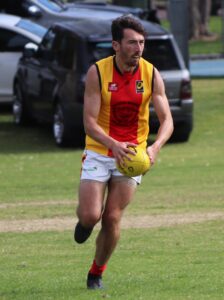 Two venues south of the river will be the centre of North Beach's attention this week as two teams play off for premierships and another attempts to qualify for the grand final.
While the O'Rourke Realty A-Grade use the week to prepare for the big dance next week after winning a gripping second semi-final last week, the Lifenet A-Reserves return to South Oval in an effort to join the senior team on the competition's biggest day.
Out-pointed by a quality Wesley-Curtin outfit last week, Scott Holbrook will be looking for a response from his charges against University at South Oval tomorrow.
After winning three premierships in succession at this level, the Beach will be looking to find their best form again. Players like Nic Bowe, Ben Sweeny and Conor Boylan, who have set benchmarks all season, will be looking to lead from the front.
Meanwhile, at Wyong Reserve, two teams are hunting premiership pennants.
The Indian Ocean Hotel Brett Jones Colts will confront Collegians in the grand final at Wyong Reserve and the Coast to Coast Imports C5-Reserves will be playing for similar rewards against Curtin University-Wesley.
The Brett Jones Colts will be looking to Lachie McLeod to lead the charge along with others like Ben Hodge, George Mortimer, James Quinn and Mitch Hunt.
The C5-Reserves have been led brilliant by Jack Steel throughout the year, evidenced by his win in the competition fairest and best count, while Nathan Adler has been a reliable focal point up forward and others like Brennen Irvine, Joel  Brown and Ben Evans have been strong contributors throughout this abbreviated 2020 campaign.
Fixtures, Saturday September 19
Lifenet A-Reserves
Preliminary Final
North Beach v University, South Oval, 1.05pm
Coast to Coast Imports C5-Reserves
Grand Final
Curtin University-Wesley v North Beach, Wyong Reserve, 12.35pm
Indian Ocean Hotel Brett Jones Colts
Grand Final
North Beach v Collegians, Wyong Reserve, 10.25am