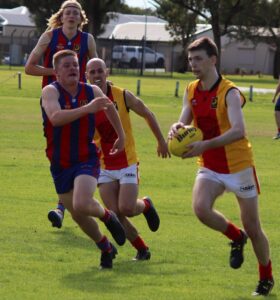 Finals football is not always about clean ball handling, immaculate skills and capitalising on opportunities.
More often than not it's more about the grind, the thirst for the contest, committing body and mind to getting the job done.
And so it was for the Hybrid Linings C5-Grade in what was an absorbing first semi-final battle with Fremantle CBC. It wasn't pretty, it was tough, relentless football with no team prepared to yield.
As is also symptomatic of contests of this ilk something eventually gives, and when it did last Saturday, the Beach held firm to advance to the preliminary final with a gripping 23-point victory.
After scores were level at half-time (2.3 apiece) the Beach proved more resilient in this titanic arm wrestle, led by the likes of Nick Marsh, Tom DeCourtenay, Craig Hall and Liam Pardini. They fall into the category of seasoned campaigners and they relished the challenge of this assignment.
Earlier, the Coast to Coast Imports C5-Reserves took a slightly less taxing route to the last three when they produced a dominant performance against Trinity Aquinas, winning 15.8 (98) to 2.8 (20) in a commanding victory.
With spearhead Nathan Adler providing a strong target up forward and finishing off his work with seven goals, the Beach started strongly and never relented.
Brennen Irvine led the team brilliantly with his exquisite skills, while Jordan Kaptein, James Sullivan, Ben Evans and Corey Jennis were also effective throughout.
The Indian Ocean Hotel Brett Jones Colts produced a stunning victory in their second semi-final, carving out an impressive eight-point win over minor premiers Curtin University-Wesley.
As a result, the Beach advances immediately to the grand final.
The Beach led for the entire game, kicked out to 22-point lead by three-quarter and then showed great composure to see the game out, winning 6.8 (44) to 5.6 (36).
Jacob Irwin kicked two goals while Nathan Ainsworth led from the front and enjoyed great support from James Quinn, Mitch Hunt, Karl Sauerwein and Peter Jolley.
Details
Hybrid Linings C5-Grade
North Beach       1.0          2.3          4.3          6.3          39
Frem CBC             0.0          2.3          2.3          2.4          16
Goals – North Beach: Quinn, Rollo, Hall, McColgan, Corbett, Sawyer.
Best – North Beach: Marsh, DeCourtenay, Hall, Pardini, Corbett, Quinn.
Coast to Coast Imports C5-Reserves
North Beach       4.2          7.4          11.7        15.8        98
Trinity Aquinas  0.2          1.4          1.5          2.8          20
Goals – North Beach: Adler 7; Orford 2; Steel, Cahill, Christie, Franklin, Irvine, Morrison.
Best – North Beach: Irvin, Kaptein, Adler, Sullivan, Evans, Jennis.
Indian Ocean Hotel Brett Jones Colts
North Beach       1.4          3.6          6.7          6.8          44
Curtin-Wesley   0.1          1.2          3.3          5.6          36
Goals – North Beach: Irwin 2; Passmore-Bush, Bateup, Saunders, McLeod.
Best – North Beach: Ainsworth, Quinn, Hunt, Sauerwein, Jolley.