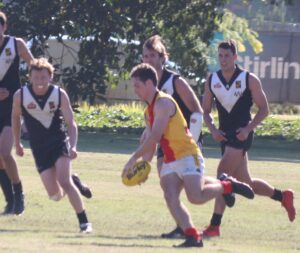 For six months Charles Riley Reserve has sat a dormant; the odd game of cricket, a few locals walking the dogs on the revered turf.
Last week the lower grades hosted the action, but tomorrow the North Beach faithful should be out in full force to support the O'Rourke Realty A-Grade when the clash with perennial force University. It should explode to life with the terraces packed for the first home game.
Newcomers like Max Hurley, Travis Gray, Michael Battaglia and Mitch Gill have not experienced that atmosphere, so they should enjoy the experience.
After an outstanding start to the season, eclipsing Trinity Aquinas by 33 points on their home ground, Shane Paap and his team are excited to resume at the club fortress.
The Scholars had a soft opening to the season, amassing an 87-point victory against Wanneroo, and still boast the big names who have been the cornerstone of their team in recent years. Darren Mumford, Tim O'Hara, Andrew Browne, Matt Goyder and Ben Taylor were all involved in last week's convincing display.
The Beach is aware of the challenge it confronts and is looking forward to it.
The Tigers were impressive against the Boomers in the season opener, again relying on an even spread of output across the ground.
Ruckman Kyle Cranley was outstanding, midfielders Dan Leishman, Tim Edwards, Joey Deegan and Sam Lamont were outstanding while the defensive unit was led by Tom Hooper, Matt Irvine and Luke Symonds.
At selection last night, forward Mitch Cameron was promoted to senior ranks while midfielder Dylan Campbell has recovered from a groin strain to play his first game of the year.
The Lifenet A-Reserves can look forward to a competitive outing against the Scholars as well. Traditionally they have strong depth and while the Beach has won the last two A-Reserves premierships, this will likely be a tight contest.
Over the last few seasons, North Beach and University have also been strong rivals in the colts, with the Plasterwise Phil Scott Colts the team most likely to deny them a premiership.
The club will get an early examination of its depth of talent in this clash and it will be worth getting to the ground early to see the future of the club on show.
The rest of the club will be scattered around the metropolitan area, mainly south of the river.
The Hybrid Linings D1-Grade, who started the season with a bang against Wembley, will have their time at Bill Grayden Reserve, as will the Coast to Coast Imports D1-Reserves.
The Indian Ocean Hotel Brett Jones Colts will travel to Morris Buzzacott Reserve to play Fremantle CBC, while then Beyond Tools E1-Grade will play at the same venue at 4.45pm.
The GJ Osplumb E3-Grade will play SNESA at Soklich and Co Oval in Queen's Park.