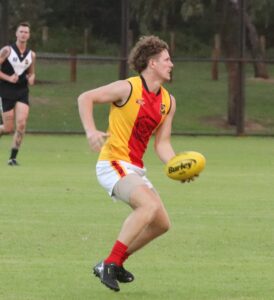 Perfection is always the objective. It might not be possible, but it is always the target and most teams will accept something close to it.
The O'Rourke Realty North Beach A-Grade were well short of it last Saturday, but the major assignment was still achieved – a convincing victory against reigning premier Scarborough at Charles Riley Reserve.
There were periods of sizzling football, moments when it was a grind and patches where Scarborough held sway. But in the end, the Beach prevailed and retained an unblemished record with a 38-point triumph – 12.12 (90) to 7.10 (52).
Again the Beach responded strongly when the opposition appeared to be working their way back into the contest and were well led by seasoned players like midfielders Sam Lamont and James Canty while Nic Reid relished the big game environment and kicked three goals.
Reid, in concert with James Garcia and Ryan Ekert, consistently had the Sea Eagles defence under pressure, while at the other end of the ground Hamish Coulton and Luke Symonds made it tough for Scarborough's forwards.
The Lifenet A-Reserves also had all of the answers and were never seriously under threat on their way to a commanding 42-point victory.
Too classy through the midfield, too potent up forward, where Ben Johnson and George McColgan kicked seven goals between them, the Beach maintained a perfect start to the season, winning 12.4 (76) to 5.4 (34).
The highly-decorated Beau Witheridge led the way through the midfield with a best-on-ground performance, while Josh Stott and Alex Thompson were also influential.
In defence Matt Raynor, Jarrod Chapman and Ben Sweeny continued their good form and Liam Catalfamo built on his match conditioning after an interrupted start to the season and got stronger as the game progressed.
The Plasterwise Phil Scott Colts proved too strong with a dominant 39-point victory, 11.10 (76) to 5.7 (37) victory.
Blair Wilson has had an impressive start to the season, While Tai Kirkpatrick again hit the scoreboard and Matthew Coleman was again under notice on a wing.
Flynn Rose, Callum O'Shea, Harry Quayle and Jonas Rocke impacted the game strongly throughout.
The Indian Ocean Hotel Brett Jones Colts travelled to the Wanneroo Showgrounds having made eight changes to the team from the previous week and controlled the game.
It was an early start, meaning there was heavy dew on the surface, but the Beach mastered the slippery conditions evidenced by Mark Craig kicking three goals in the opening term. The Beach went on to win 16.14 (110) to 1.3 (9) and Craig, James Cameron and William Huggins were shining lights.
The Project Ceilings A-Grade women battled hard against Piara Waters before succumbing by 18 points on a day when there were eight club debutants in the senior women's team.
Olivia Hongell, Tessa Anderson and Jasmine Hunneybun were outstanding despite the Beach slipping to a 4.12 (36) 2.6 (18) defeat.
The Peak Body Fitness C4-Grade found the Warnbro Swans too tough to conquer and lost by 32 points, while the Grange Residential I-Grade were also out-pointed by the powerful Coolbinia outfit.
Details
O'Rourke Realty A-Grade
North Beach       4.3          7.7          9.9          12.12     90
Scarborough      2.1          5.4          7.7            7.10     52
Goals – North Beach: Reid, Gill 3; Garcia, Ekert 2; Lamont, Dwyer, McGuinness.
Best – North Beach: Lamont, Coulton, Canty, Symonds, Reid, Garcia.
Lifenet A-Reserves
North Beach       2.2          5.3          7.4          12.4        76
Scarborough      0.1          2.2          3.3          5.4         34
Goals – North Beach: Johnson 4; McColgan 3; Martino, C Wells, Bowe, Swain, Webster.
Best – North Beach: Witheridge, Raynor, Jarrod Chapman, Johnson, Catalfamo, Sweeny, Thompson, Stott.
Plasterwise Phil Scott Colts
North Beach       3.1          5.3          9.4          11.10     76
Scarborough      0.1          2.4          3.6            5.7        37
Goals – North Beach: Kirkpatrick, McAdam, Brooks 2; Perry, O'Shea, Rocke, Rose, Quayle.
Best – North Beach: Wilson, Kirkpatrick, Coleman, Rose, O'Shea, Quayle, Rocke.
Indian Ocean Hotel Brett Jones Colts
North Beach 16.14 (110) def Wanneroo 1.3 (9)
Goals – North Beach: N/A
Best – North Beach: Cameron, Craig, Huggins.
Project Ceilings A-Grade women
Piara Waters 4.12 (36) def North Beach 2.6 (18)
Goals – North Beach: Holden, Turner.
Best – North Beach: Hongell, Anderson, Hunneybun, Pianto, Jones, McKendry.
Peak Body Fitness C4-Grade
Warnbro Swans 1.1         3.3          3.5          4.10        34
North Beach       0.2          0.2          0.2          0.2          2
Best – North Beach:  N/A
Grange Residential I-Grade
Coolbinia 14.9 (93) def North Beach 6.3 (39)