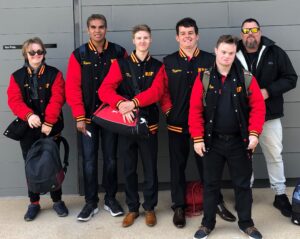 Playing at WA's shiny new sporting venue, Optus Stadium, is something cherished by football's elite.
And a handful of North Beach Integrated Rules players lived that dream when playing in a curtain-raiser on Good Friday in the lead-up to West Coast Eagles-Port Adelaide match.
Ben Henson, Mailey Kelly, Jarrad Johnson, Max Letizia and Matt Blevins did the club proud in the game and they will always cherish the memory.
But, equally, they will enjoy playing their first home game of the season on a day the club celebrates the ANZAC tradition with the A-Grade game on the adjacent main oval.
The Grange Integrated Rules team has elevated the community connection of the North Beach Football Club to another level and the opportunity to play at home this week will be a highly-anticipated moment for them.